One to impress guests, this large fridge freezer is both beautiful and effective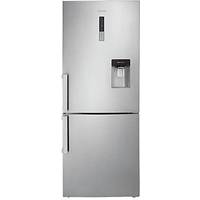 Another cracker from Samsung. The RL4362FBASL is a big freestanding fridge freezer that looks elegant and comes with heaps of convenient, and eye-catching, features such as a chilled water dispenser. This many not be the cheapest model, but UK buyers will want to put this one on their shortlist.
Bigger than most, with outer dimensions of 185 cm (H) x 70 cm (W) x 69 cm (D), the Samsung RL4362FBASL is beautifully designed, inside and out. Its net storage capacity is 432 litres, split between 300 litres for the fridge and 132 for the freezer – making this a great model if you're big on your frozen foods. In the fridge you'll find three glass shelves; a 'Fresh Room' for charcuterie or unfinished dinner; a salad crisper drawer for fresh fruit and veg; and a host of adjustable racks in the door. There's a reservoir for the integrated water dispenser taking up some space but at least it means no plumbing is required. Samsung's multi-flow system ensures fresh air is pumped throughout to stop ice forming but also to guarantee uniformity of temperature. The freezer contains four drawers of different sizes – which are wide and deep, with stops to prevent them falling out. There's also a nice 'Twist & Serve' ice dispenser, which does actually what it sounds like. The separate freezer and fridge thermostats are a nice touch and give you total temperature control.
There are tons of further features. To go through them quickly you'll find: an attractive LED display on the door for controlling your fridge freezer; frost-free for negating the need for manual defrosting; fast freeze for zapping freshly introduced shopping; an open door alarm; anti-bacterial protection; below average noise (42 decibels); and finally a nice interior light for midnight snacking.
The RL4362FBASL is great at insulating your food from outside temperatures. It can fend off heat up to 43 degrees centigrade, and cold down to 10 degrees. The freezer in particular is quick and effective, but the fridge lacks a bit of oomph and doesn't chill as efficiently as other models. It's also impossible to remove the drawer fronts for cleaning. Finally, on a positive note, despite the huge size of this fridge freezer, which is almost approaching the American style, it's pretty cheap to run with an energy efficiency rating of A +.
What's hot:
Beautifully designed
Loads of features
Efficient and cheap to run
What's not:
Fridge lacks power
Short power failure safe storage period (8 hrs)
Expensive
Why you should buy it: This is an incredibly stylish fridge freezer with a host of awesome features to impress the guests. It's got everything except chilling power for the fridge. If this is a deal breaker you'll need to keep searching.