Samsung RB31FERNBSS Stainless Steel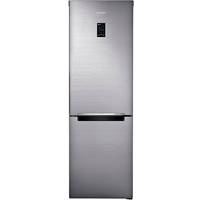 Stylish, with some great features and the latest cooling technology.
Samsung may be synonymous with smartphones, tablets and televisions in most people's minds, but the electronics giant also boasts an impressive range of household appliances. A prime example is the sleek and superb RB31FERNBSS fridge-freezer, whose brushed steel finish would make it a perfect fit in the most cutting-edge of kitchens. It's more than just a pretty face, though, featuring an A+++ efficiency rating and multiflow cooling which ensures equal distribution of cool air throughout the unit, keeping food nice and fresh for longer. With 206 litres of fridge space and 98 litres of freezer storage, it's an ample appliance for couples and families alike.
If you're house proud, the Samsung RB31FERNBSS will tick your boxes on the aesthetics front. Behind its futuristic sheen you'll find plenty of refrigeration space, with the fridge section featuring tempered glass shelves, salad crispers and a wine rack to keep those whites and roses at optimum temperature. The freezer features three transparent drawers with almost 100 litres of capacity – more than enough for stacks of frozen foods and sacks of ice cubes. The fact that you'll never have to manually defrost it makes it all the sweeter.
The Samsung RB31FERNBSS is a very clever fridge-freezer indeed. Take the CoolSelect Zone, for example. It's a special compartment in the fridge section which lets you adjust the temperature for the type of food you're storing – lower for raw meat and fish, a little less cold for fruit and veg so as to maintain their flavour. It also has cunning Power Freeze technology which means the freezer swiftly lowers the temperature when new food items are added, maintaining the correct coolness at all times, while the Holiday Mode lets the unit work at the most efficient power setting possible while keeping frozen food in excellent condition.
It's not just the electronic wizardry that makes the Samsung RB31FERNBSS special. It's also the thought that's gone into the basic design of the doors and drawers. Want to take a load of condiments to the dining table? You can transport them neatly, in one go, thanks to the detachable Grab 'n Go Basket. Meanwhile, the freezer drawers are designed to extend all the way out for ease of access and storing bulky items, while the fridge section's Easy Slide shelf has rolling hinges so you can get to those jars at the back without having to stick your arm all the way in.
What's hot:
Spacious and stylish
Smart specifications
Clever convenience
What's not:
Fairly noisy
Some dissatisfaction with bottle rack
No white finish option
Why you should buy it: This fridge-freezer is ideal for those who pride themselves on a good-looking kitchen and little those little extra touches. Like a grab 'n' go condiments basket or an Easy Slide shelf for simple access. Loved by many.