One of the best for the price - chills and freezes brilliantly and is super quiet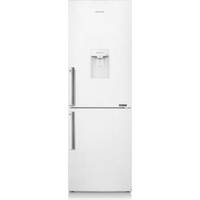 UK buyers – are you looking for a reasonably-priced, freestanding fridge freezer which chills and freezes excellently, one that's jam-packed with amazing features, cheap to run and quiet as a mouse? If so then stop what you're doing and cast your eye immediately at the Samsung RB29FWJNDWW. You won't find better for the price.
The beautifully-designed white RB29FWJNDWW is has dimensions of 178 cm (H) x 59.5 cm (W) x 66.8 cm (D) and inside you've got a combined net capacity of 288 litres – split 98 litres for the freezer and 190 litres in favour of the fridge. This fridge has four well-designed, easy-to-clean shelves, with a crisper drawer for the fragile for bulky fresh fruit or vegetables, and an 'Easy Slide' shelf on rolling hinges for the items you need to access most regularly. The bright LED overhead light ensures you can see into every corner of the fridge space. Because this model has a water dispenser with a 4.5 litre water tank in the door, it eats into the door's storage capability, but wine connoisseurs needn't worry about bottle space as there's a bottle rack in the main fridge. Meanwhile, the freezer containers three 'full open box' drawers – meaning the openings are wide and your items are more accessible than usual.
There are dozens of cool modern features contained within this model; from 'True No Frost' which eliminates build ups of ice and removes the need for defrosting; separate digital thermostats for enhancing control over your fridge and freezer temperatures; a fast-freeze function for blitzing newly-introduced foods to keep them as fresh as possible; a door alarm; to a water dispenser that doesn't require plumbing into the pipes; and more besides. Most importantly, the RB29FWJNDWW chills and freezes extremely quickly and effectively, without being a significant drain on your power. Temperatures can be controlled with the accurate thermostats and digital display panels, while the insulation is pretty impressive too – keeping your food cold even in extreme heatwaves. But if you suffer a power outage your food won't safely last a full 24 hours.
At just 39 decibels this is one of the quieter fridge freezers on the market, and it's also extremely energy efficient. Not only is it rated A + for efficiency, but Samsung has a smart Digital Inverter Compressor which adjusts according to the ambient humidity levels and your pattern of usage. This clever bit of technology keeps temperatures constant, noise to a minimum, and you'll soon reap the benefits of lower electricity bills.
What's hot:
Really effective chilling and freezing
No manual defrosting
Quiet and cheap to run
What's not:
Not as well insulated as some rivals
Awkward water dispenser refilling
Hard-to-remove salad drawer for cleaning
Why you should buy it: There are so many great things going on with this fridge freezer it's hard to know where to start. For a relatively inexpensive model it comes packed with awesome features and does its basic job of chilling and freezing food very well indeed.