Great at the basics, quiet and maintains temperatures extremely well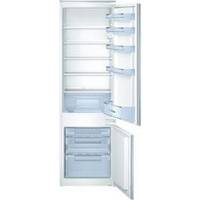 UK buyers considering a mid-range integrated fridge freezer that's not awash with the latest features, but performs its basic job very well, should seriously consider the excellent Bosch KIV38X22GB.
Designed to be integrated into a kitchen cupboard, this is a freezer big enough for a large family, with dimensions of 177.2 cm (H) x 54.1 cm (W) x 54.5 cm (D) and a capacity of 277 litres. The fridge has storage of 217 litres to the freezer's 60 litres, so it's tilted towards the family that prefers its fresh food to its ready meals. In the fridge, which has a frost-free function to prevent a build-up of ice, you get five shelves and five door racks. There's also a crisper compartment for salads or other fragile grocery items. Four of the shelves can be adjusted for height, while the freezer – sadly not frost free – contains three transparent drawers. Although pretty light on features it does at least have fast freeze for quickly dropping the temperatures of your latest supermarket shop. Apart from that there are no temperature alerts or even an ice cube tray.
Where this fridge freezer comes into its own is in its freezing and chilling ability. It brings temperatures down much faster than many of its rivals – including many more expensive models – and once it's got them down it keeps them there to great effect. It's insulated sufficiently to maintain an even temperature between 10 and 38 degrees centigrade, which isn't as good a return as some competitors, but not bad. If you happen to experience a power cut you've got 13 hours before the food starts to thaw – again, below average for a model of this type.
Generating just 40 decibels, this is a pretty quiet fridge freezer, and it's also quite energy efficient with an A + rating – saving you pennies and helping the environment.
What's hot:
Chills and freezes very well
Maintains temperatures
Quiet
What's not:
Needs manual defrosting
Power failure safe storage of just 13 hours
Not bursting with features
Why you should buy it: This is a brilliant integrated fridge freezer for getting the basics right. It might require manual defrosting, but for chilling and freezing purposes you won't find many better.