Inexpensive, does the basics perfectly and boasts an array of features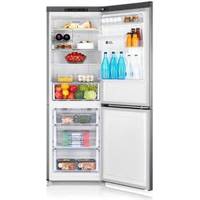 The Samsung RB29FWRNDSA is a brilliant, moderately-priced, freestanding fridge freezer with an A + energy rating and a whopping range of features – and crucially it chills and freezes as well as any other.
This is the graphite version of the Samsung RB29FWJNDWW. It has outer dimensions of 178 cm (H) x 59.5 cm (W) x 66.8 cm (D) while internally there's an overall net storage of 288 litres. The freezer has a capacity of 98 litres with three nicely accessible drawers. Meanwhile, the 190 litre fridge has four sturdy shelves and a crisper drawer for salads and other fragile items. Samsung also includes an 'Easy Slide', which is essentially a shelf on rollers to get quick and easy access to those items you use most regularly. There's a nice digital display for controlling temperatures, with a number of settings, and a bright interior LED light for when you want to snack at night. The inside of the door is slightly burdened with the water dispenser tank, so doesn't offer as much storage capacity as it might otherwise.
In terms of features you're really spoilt for choice: there's 'True No Frost' which prevents ice from building up – meaning no tedious defrosting; fast freeze for quickly freezing newly introduced items to the freezer; there's a door alarm to warn you if it hasn't shut properly; and of course there's the aforementioned water dispenser - which dispenses from a tank so you don't need a visit from a plumber.
The features are all fantastic, but can this machine back that up where it counts? The short answer is yes - chilling and freezing are achieved with real power and speed. Temperatures are maintained very well but the insulation, while fine for UK weather, isn't quite as impressive as it is with some competitors. The power cut safe storage period doesn't quite extend to 24 hours, but this is a minor quibble. Finally, the RB29FWRNDSA uses an ingenious Digital Inverter Compressor to adjust the fridge freezer's cooling system across five modes. It adapts to the internal humidity levels and your usage, ensuring constant temperatures, a lower decibel output, and lower energy bills.
What's hot:
Chills and freezes very well
No manual defrost
Cheap and quiet to run
What's not:
Could be better insulated
Dispenser awkward to refill
Salad drawer hard to shift for cleaning
Why you should buy it: UK buyers would be well advised to give the RB29FWRNDSA serious consideration. It's relatively cheap to buy and run, performs its basic jobs to perfection, is quiet, and comes with a glittering array of awesome features.