Unbelievably quiet and energy efficient, this sizeable fridge freezer is a winner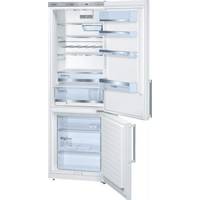 If you're looking for an unbelievably quiet and efficient fridge freezer that comes with almost every bell and whistle imaginable – although weirdly not 'frost-free' – then the Bosch KGE49BW41G might just have your name on it.
This awesome offering from Bosch has substantial outer dimensions of 201 cm (H) x 70 cm (W) x 65 cm (D). It's not quite an American-style fridge freezer, but it's not far off. Inside there's a cavernous 413 litres, with 301 litres of space set aside for the fridge and 112 litres for the freezer. This is more than enough for even the largest of families. The fridge has three adjustable glass shelves, with an additional chiller box for meats and fish and a moisture-regulated crisper box for keeping fruit and vegetables extra fresh. There's also a handy wine rack and four full-length door racks for holding bottles of milk and juices. Air is circulated to ensure an even temperature throughout the fridge and prevent frost building up. Inside the freezer there are three compartments, one of them being a 'BigBox' drawer for outsized items.
There are plenty of great features including unbelievably low sound levels (just 38 decibels) – making this one of the quietest models on the UK market. There is also an open door alert; a temperature warning light; a holiday setting; and super-freeze for rapidly cooling newly introduced items. Rather strangely, considering Bosch has put so much effort into this model, there's no frost-free freezer function – meaning you will unfortunately have to manually defrost this from time to time.
The actual chilling and freezing capability of the KGE49BW41G is top notch. The freezer in particular is quick-acting and you'll find even full loads are brought down to the right temperatures speedily and then kept there effectively. It's well insulated against outdoor conditions, and should survive even an extreme heatwave – safely operating up to 43 oC. If you happen to experience a power cut it's a weight off the mind that this model will safely continue to chill and freeze your items for a mammoth 44 hours – way more than average. Finally, this model has an A +++ energy rating – the best you can get – making this one of the most efficient fridge freezers ever made.
What's hot:
A +++ energy rating – the best you can get
Unbelievably quiet
Incredible features
What's not:
Manual defrosting
Not that cheap to buy
Sensitive open door alert
Why you should buy it: This is an extraordinarily-quiet and efficient fridge freezer, loaded with awesome features. It chills and freezes effectively and has everything going for it except it needs manual defrosting. If this doesn't bother you too much then we highly recommend the Bosch KGE49BW41G.