This giant fridge freezer performs brilliantly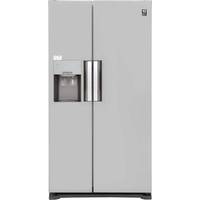 The Samsung RS7667FHCSL is a gargantuan 'American-style' fridge freezer that'll keep you stocked up even through a zombie apocalypse. It's teeming with amazing features, has a refreshing water / ice dispenser in the door, and freezes and chills like a champ.
This impressive beast of a fridge freezer has dimensions of 178.9 cm (H) x 91.2 cm (W) x 71.2 cm (D) and an almost unfathomable capacity of 543 litres. It looks gorgeous with its glowing blue digital display and the water and ice dispenser set into the door. The fridge has a mammoth storage area of 359 litres with five shelves illuminated by an effective LED light. The freezer houses an impressive 184 litres of space, with six compartments. It's frost free meaning you won't have to roll your sleeves up and defrost this model manually, while its Twin Cooling function cools the fridge and freezer spaces separately to ensure the perfect temperature and humidity levels for each. You also get a holiday setting to keep the unit at the optimum temperature for saving money while you're away; a child lock; and power freeze to rapidly freeze your fresh load of grocery shopping – locking in nutrients and preventing frozen food from thawing. If you accidentally leave the door ajar you'll be alerted by an audio alarm.
It's brilliant at quickly bringing the temperature of your food down to the right levels and then keeping it there. The thermostats are accurate to put your mind at ease, and this model will insulate and maintain the right temperatures even if your kitchen goes up to 43 degrees centigrade.
One possible negative is that the power failure safe storage time is just 9 hours – quite a lot less than average, but this should give you adequate time to get your power back up and running. The decibel level is only 39, making this one of the quieter fridge freezers on the market. Finally, it burns very little electricity for such a big unit and comes with an A + energy rating.
What's hot:
Great chilling and freezing
Extremely energy efficient
Cavernous interior
What's not:
It's expensive to buy
Awkward to clean
Needs a plumber to connect
Why you should buy it: UK buyers with a few quid to burn are advised that the Samsung RS7667FHCSL is the real deal. Fans of American-style fridge freezers won't be disappointed – it's spacious, works a treat and looks fantastic.