Fast and effective, this is one of the best fridge freezers on the market today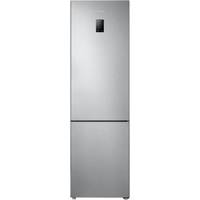 The Samsung RB37J5230SA is a spacious freestanding fridge freezer with some fantastic features. It's energy efficient, chills and freezes extremely well and will be the envy of all your neighbours.
This is a sizeable offering from Samsung, with outer dimensions of 201 cm (H) x 59.5 cm (W) x 67.5 cm (D). Inside there's an overall net storage capacity of 367 litres; split 269 litres for the fridge and 98 litres for the freezer – more than sufficient for even the largest, hungriest family. The fridge has three adjustable shelves, a salad crisper area, and a 'fresh drawer' for items requiring a lower temperature such as meats and fish. Inside the door you'll find two full racks and four mini racks for various smaller items and bottles. The freezer is divided into three compartments and both fridge and freezer have handy separate thermostats for total temperature control.
There are plenty of great features here. 'EcoSpace' is a form of thinner insulation technology, which is why you can fit so much more in this fridge freezer than you'd think possible. The 'All Around Cooling' feature pumps cool air into every corner, ensuring everything stays fresh with no warm spots. Being frost free is a real boon as it means there's never a need for manual defrosting. There's also an open door alert; a reversible door (requires an engineer); insulation against outside temperatures between 10 and 43oC; and a power failure safe storage period of 18 hours.
Best of all, this fridge freezer chills and freezes extremely quickly and effectively, even with a full load. Its fast freeze function is extremely good, rapidly dropping temperatures for when you introduce a fresh batch of food from your latest shopping run. This helps to lock in nutrients and stop items thawing. Finally this is one of the quietest fridge freezers on the UK market with a decibel level of just 38. And despite being a big unit it's surprisingly cheap to run – it shouldn't add more than £50 a year to your electricity bill.
What's hot:
Quickfire chilling and freezing
Very quiet
No manual defrosting
What's not:
Quite expensive
Hard to clean
Needs manually restarting after a power cut
Why you should buy it: It's not the cheapest, but it's one of the best fridge freezers out there. Fast, quiet, effective – the Samsung RB37J5230SA has a dizzying array of great features and should be top of your wishlist.