A great price for a freestanding dryer that does the basics plus a little more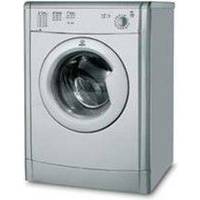 The Indesit IDV75 is a very reasonably-priced, freestanding, vented tumble dryer. It does the basic job it's supposed to do and even has a couple of decent features thrown in such as reverse tumble action and a freshen up option. UK buyers on a budget might want to give this a whirl.
This is a nicely-sized machine, in fetching bright white, with dimensions of 85 cm (H) x 59.5 cm (W) x 58.4 cm (D) and a load capacity of 7 kg. It should be more than adequate for medium to large households. As a vented machine it's important to give some forethought as to where you'd keep it – this type of model uses a hosepipe to expel the moisture extracted from your clothes. Ideally it would be in easy reach of a window or air vent.
There are just the two heat settings – low and high – and a guide to timings for cotton, synthetics, and acrylics printed on the control panel near the timer dial. As there's no moisture sensor to automatically switch off the cycle it's important to get your timings right to avoid over-drying and causing heat damage to your fabrics. The reverse tumble action of this model prevents clothes getting into a tangle and thus helps reduce creasing. If you need to give clean clothes that have spent too long in a drawer a quick refresh, there's a cool air 'freshen up' function for just this purpose.
The IDV75 dries very quickly and evenly – faster than average, in fact. The 'B' energy rating is pretty decent for a tumble dryer, but the noise level of 69 decibels is similar to that of a vacuum cleaner. So at the height of its cycle you'll find yourself raising your voice to be heard if you're in the same room.
What's hot:
Dries quickly
Reverse action reduces creasing
Inexpensive
What's not:
Lacking features
Noisier than average
Needs to be near a window or air vent
Why you should buy it: The Indesit IDV75 is a safe pair of hands. It's cheap, easy to use, and dries extremely well. It's lacking a lot of modern features, but for the price you won't find much better.