Quick and simple to use, this lacks some features, but is a steal at the price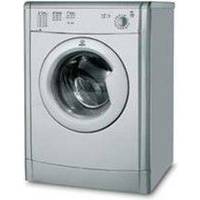 If you're searching UK websites for a value-brand, vented tumble dryer, then you really ought to consider the Indesit IDV75S. Fast, easy to use, and with a couple of useful features to boot, this is a model to reckon with.
This is the silver version of Indesit's IDV75 and identical in all respects except in colour. Its measurements come in at 85 cm (H) x 59.5 cm (W) x 58.4 cm (D) and it can take loads up to 7kg, making it ideally suited for a medium or even a large-ish household. For the uninitiated, a vented machine expels the moisture it draws from your fabrics via a length of hose pipe – so you need to ensure there's a window nearby or your kitchen or bathroom is going to resemble a steam room.
The IDV75S is incredibly basic so you shouldn't need to refer to the manual much. On the front there are two heat settings and a timer dial. There's also a helpful guide suggesting the correct timings for cotton, synthetics and acrylics. As the machine relies on a timer you have a good deal of control – you'll always know exactly when the cycle will finish, but do take care not to over-dry as there's no sensor to automatically switch off when there's no moisture. There are two extra handy features; a 'freshen up' option to blast cool air at items that are otherwise clean but need aeration; and a reverse tumble action which stops clothes bundling up and creasing to excess.
In terms of the performance the IDV75 won't disappoint. It's particularly fast at drying and you'll be impressed with the evenness of the finish – you're unlikely to find a damp pillowcase amongst your dry shirts. It has a decent 'B' energy rating, but despite this it's not the cheapest or most efficient to run. You may also notice the noise level of 69 dB. This is the equivalent number of decibels generated while you're in the shower and it's above average for a tumble dryer.
What's hot:
Rapid and even drying
Reasonably priced
Reverse tumble action reduces creases
What's not:
Quite noisy
Lacks modern features
Needs to be near a window or air vent
Why you should buy it: This is a great little basic tumble dryer which should be close to the top of anyone's wishlist if they're after something inexpensive, simple to operate, and effective.