Sensor drying and a delay timer are two of this vented dryer's great features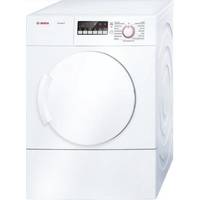 If you're looking for a vented tumble dryer that dries very well, has a moisture sensor to automatically switch off, and a decent load capacity, then you shouldn't ignore the Bosch WTA74200GB.
As a vented tumble dryer it's useful to remember that the moisture sucked out of your fabrics gets expelled through a hosepipe – so before purchasing make sure you have a vent or window near where you'll keep it. The outer measurements of 84.2 cm (H) x 59.7 cm (W) x 62.9 cm (D) with its capacity of 7 kg should be more than adequate for a medium household. It comes in a crisp, clinical white, like 90% of other tumble dryers, and has a nicely sized door and wide opening for easy access. The door pops open simply enough, but the removable lint filter can be a bit fiddly. There are 12 programmes to choose from, covering a variety of fabrics and temperatures. Amongst them you'll find a special delicate wool option and 'iron dry' which leaves clothes just damp enough to aid with the ironing process – particularly useful as this model doesn't have a reverse tumble action for reducing creasing.
There's a delay timer if you want to push back your cycle to a later time, and sensor drying technology that will stop the cycle when there's no more moisture in the drum. This not only shaves a few pounds off the utilities bills each month, but reduces heat damage to your clothes. Although be warned the sensors can get confused by small loads and switch the cycle off prematurely.
The performance of the WTA74200GB is above average. Clothes dry quickly and evenly, with no damp patches, and each programme provides a more than satisfactory finish for all fabric types. The 'C' rating for energy efficiency is a bit substandard, but dryers routinely have lower ratings, so this isn't as poor a rating as you might think. The noise levels of 65 decibels is a little on the loud side, but there are worse offenders.
What's hot:
Pretty decent drying speeds
Sensor drying saves money
Good, accurate programmes
What's not:
No reverse tumble action
A bit pricey for a vented dryer
Sensor confused by small loads
Why you should buy it: This is an above-average-to-decent tumble dryer - it dries well and has some cracking features like sensor drying. If you can find it for a reduced price in the UK it might still make a good purchase.