A quick and consistent tumble dryer, if a little noisy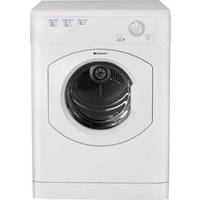 The Hotpoint FETV60CP is an inexpensive, freestanding, vented tumble dryer that dries quickly and evenly. UK buyers would be foolish to pass this one up.
This offering from Hotpoint had a short-lived fire hazard scare a couple of years ago, but is now deemed completely safe. A vented dryer, for the uninitiated, means you need an exit point for its hose – this is where the extracted moisture gets ejected. With dimensions of 59.5 cm x 85 cm x 56.2 cm and a maximum load of 6 kg, it's ideal for a small to medium-sized household. It has a wide door and opening for easy access, and 12 programmes for different fabric types. Unfortunately there's no sensor for automatic drying cycles. Instead you have a timed drying feature so you manually set the length of time of the cycle. It does have a handy reverse drying action however, to minimise bunching up and creasing while in the drum.
This model dries consistently well and evenly; you won't find any damp items in the mix. It's very quick for the price and is equally impressive with all fabric types. It's so simple to operate you can work it out from the front panel without the need to dip into an instruction manual.
The energy rating isn't particularly impressive at 'C' and the noise output is a borderline high 69 decibels. That's the equivalent of standing 50 feet away from a motorway according to most decibel comparison charts. Apart from that this is a lovely little model that will more than suffice for most households.
What's hot:
Dries quickly
Even finish
Crease-free fabrics
What's not:
'C' energy rating
Gets noisy
Vented so needs a space for hose
Why you should buy it: The Hotpoint FETV60CP is a great little runner for those of you that just want a simple dryer that dries quickly, evenly, and without creases. It's a bit noisy and you need a good spot for its hose – so bear these in mind before purchasing.