Bosch WTW87560GB White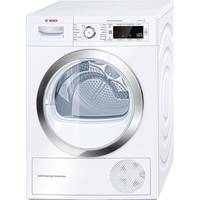 An energy-efficient, easy-to-use dryer that's great for allergy sufferers.
Known for its first-rate quality and dashing good looks, Bosch appliances are especially sought after – and the tumble dryers are no exception. Finished in pure white, with a gleaming chrome trim around its front-loading door, the Bosch WTW87560GB is one of the most popular dryers on PriceRunner. It offers a roomy 9 kg capacity, as well as an efficient, user-friendly design that dries clothes perfectly every time. For allergy sufferers it'll be especially appealing, since it's designed with them in mind.
If there are two things you look for in a tumble dryer, it's useful programmes and quick, efficient drying. Fortunately the Bosch WTW8760GB offers both, but not at the expense of wearing down your clothes. The unique structure of the stainless steel drum is designed to be gentle on textiles, drying them softly and evenly whatever the programme. When it comes to programmes, this model certainly doesn't lack any – and they're all very easy to use. Special programmes include cycles for woollen items, mixed loads, towels, and duvets, as well as timed programmes for hot and cold dries too. You'll find the regular controls on the touch button panel, which includes options for low heat, anti-crease, and a 24-hour time delay.
For the environment-conscious consumer, energy efficiency is a top priority - and the Bosch WTW8760GB ticks that box right away with its A++ rating. Based on 160 cycles in the span of a year, it'll consume a not too shabby 259.0 kWh of energy, meaning it won't drive your utility bills through the roof. Another thing you won't have to fret over is maintenance. The dryer's condenser is self-cleaning, and does so up to four times during each cycle. This means you won't have spend ages manually cleaning anything, giving you more time to relax or do something more interesting.
It's the small things in life that count, and alongside its top-notch performance the Bosch WTW87560GB is brimming with useful little features. Among them there's a child lock for inquisitive little hands, a buzzer for when your cycle's finished, and a large LED display which indicates how long your programme has left. There's also an extremely useful interior light within the drum itself – meaning you'll no longer have to use your caving light when it's time to retrieve your laundry. The Bosch WTW87560GB White was also designed to vibrate less, meaning it's fantastic for anyone who likes a quiet life.
What's hot:
Gentle drying, effective programmes
Energy efficient
Some handy additional features
What's not:
Can be noisy
Quite expensive
Doesn't always dry everything completely
Why you should buy it: If you're after a decent dryer for the family, then this is certainly a good bet. There are plenty of programmes and handy features to suit all sorts of needs. More expensive than some, but definitely worth considering, especially as it's pretty cheap to run.