A reasonably-priced basic slimline dryer that works quickly and evenly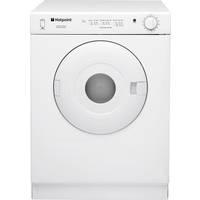 The Hotpoint V4D01P is a relatively cheap vented tumble dryer with a pretty diminutive load capacity. UK buyers looking for something small and cheerful should consider this for the longlist.
This is one of the more compact models out there, with a 4kg load making it suitable for small households only. The outer dimensions of 67(H) x 49 (W) x 48 cm (D) are perfect for those of you with limited space at home. It's also light on features, but does have a few tricks up its sleeve. Firstly you'll notice the 13 useful auto-programmes covering a range of different fabric types. There's also a very handy reverse tumble action to stop clothes from getting bunched up and overly creased. Finally, if you want to air a dry item or two that's been kept in a drawer too long or only worn once, there's a very convenient 20 minute 'freshen up' option. A full load of cotton items will take 135 minutes to dry – pretty quick against the average.
As a vented dryer it's important to know that the moisture extracted from your fabrics escapes via a hose pipe, so you must ensure you keep this model near a vent or window. Most importantly of all, the V4D01P dries quickly and evenly – probably the two key functions you want most from a dryer. It has a fairly poor energy efficiency rating of 'C' but as a small machine it won't gobble up your electricity.
Finally, it produces 66 decibels of noise, which is just above average and approaching being noisy for an appliance of this type.
What's hot:
Quick – especially with cotton
Even drying
Decent value
What's not:
Very small loads
Above average noise
Lacking in features
Why you should buy it: This is an above average tumble dryer that dries well and is pretty cheap. Its slimline dimensions make it ideal for a household with limited space, and although it's not all singing, all dancing, it knows how to dry.