A simple, inexpensive tumble dryer that's easy to use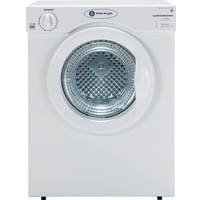 If you're searching for a cheap, compact, effective vented tumble dryer, then the White Knight C37AW could be up your street. It's a back-to-basics model that does what it says on the tin, but not much more.
This is a vented tumble dryer, meaning the moisture extracted from your fabrics will be expelled from a length of hose – so make sure you have an air vent or window nearby. The measurements of this compact dryer are 67 cm (H) x 50 cm (W) x 47 cm (D), and the internal capacity can only take loads up to 3 kg, making this suitable for smaller households. With just two heat settings and a timer dial, it's unlikely to stump even the most easily-confused of users.
There's no reverse drum action for reducing fabric-bunching, but you do at least get a final cool-down tumble as the cycle ends which does help a bit with creasing. There's also no drying sensor, but you do get a timer which can go up to 140 minutes in length. This does mean you'll know exactly how long the cycle will last, but there's also the risk of over-drying and damaging your fabrics.
The 37AW actually dries relatively well and evenly despite the lack of bells and whistles. But it has a low efficiency rating of just 'C' – the second lowest rating on the scale. However, due to its diminutive size it won't significantly add to your electricity bills. Finally, it produces noise levels of 64 decibels – just about average.
What's hot:
Very cheap
Dries effectively
Simple to operate
What's not:
Very small loads
Extremely basic
No reverse action to reduce creases
Why you should buy it: There really aren't many cheaper models on the UK market than the White Knight 37AW. If you want a bare-bones model that dries well enough and costs next to nothing then this is definitely worth a look.