Dyson DC40 Multifloor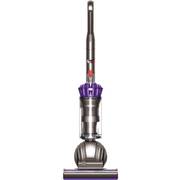 Ultra lightweight and easy to manoeuvre, this is a bestseller for a reason.
Dyson produces some of the world's best-selling vacuum cleaners, and is known for its high quality, top-notch technology, and funky designs. The Dyson DC40 Multifloor does exactly what it says on the tin, effectively tackling a range of surfaces from dusty hardwood floors to pet hair-strewn carpets. Housed within a futuristic silver chassis, the upright ball-movement vacuum cleaner is packed with useful features. There's a self-adjusting cleaner head, attachments to help you reach awkward spaces, and a push-button emptying mechanism. What's more, it's certified asthma and allergy friendly.
There's much more to the DC40 than just good looks – there's some nifty technology going on too. When it comes to dust busting with a bog-standard bagged vacuum cleaner, you'll often find its effectiveness decreases over time. This is because these vacuums are more prone to getting clogged up, which reduces their suction and results in dust and dirt being left behind. That's not the case with the Multifloor however. Housed within its fancy exterior lies Dyson's innovative Radial Root Cyclone technology. The source of the machine's powerful suction, it creates efficient and consistent airflow that's strong enough to capture even microscopic particles – making it fantastic for anyone with allergies.
Whatever the floor type, the Dyson DC40 Multifloor can tackle it with ease and efficiency – and it's not just down to the suction. Its clever cleaner head boasts a self-adjusting feature, which automatically seals the gap between the base plate and the floor, sealing in the suction. So whether you're vacuuming a deep pile carpet or a wooden floor, it performs perfectly every time. Surfaces aren't the only things the Multifloor can do – it's fantastic for getting at hard-to-reach areas too. A bundle of attachment tools allows you to get into tight nooks and crannies, whilst a brush attachment allows you to safely but effectively clean upholstery – which is great news for pet owners. Another handy feature is the hose and wand. Released in one slick action, it allows you to reach high-up areas without any faff.
While they're generally better than they used to be, many of today's upright vacuum cleaners are still awkward and cumbersome to move, leaving you feeling like you've had a workout each time you do the vacuuming. The Dyson DC40 Multifloor isn't any of those things. Its ball-movement design makes navigating it around your home an absolute breeze, allowing you to swiftly glide across surfaces and right up close to edges. Such is its effortless design, it was commended by the Royal College of Chiropractors.
What's hot:
Clever technology
Works on any surface, anywhere
Manoeuvrable
What's not:
Can struggle with embedded dirt
Performs less well with attachments
Pricey
Why you should buy it: If you like your vacuums powerful, quiet and super easy to manoeuvre, then this could be the one for you. It looks great, and even space-age with its futuristic ball design. Not the cheapest, but it is a Dyson, after all. Bag one of these bagless wonders today!