Dyson DC50 Animal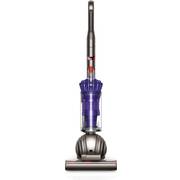 Powerful, energy efficient and great on pet hairs. Pretty noisy, though.
The Dyson DC40 Animal is an upright, bagless vacuum cleaner designed to be particularly effective with pet hair. It's great for allergy sufferers and anyone who appreciates good suction power.
This offering from Dyson is 106.5 cm high and weighs 6.6 kg – about average for a vacuum cleaner. It has a relatively short 7.5 metre cord and a 700 watt motor. It comes with a whole host of add-on tools and features including: a crevice tool for corners and cracks; an upholstery tool for delicate surfaces; a motorised floor head for shifting tough-to-shift debris; a stair tool with velour strips to aid picking up hair; a self-adjusting cleaner head that recognises different surface types and changes accordingly; an easy recline for tilting the handle to reach under sofas and beds; and an easy button release for emptying your cleaner's contents into the bin. The lifetime washable filtration system helps prevent particles and allergens escaping in the exhaust, giving it an A rating for dust emissions, and making this a 'must-have' for allergy sufferers.
The Dyson DC40 has an 'A' rating for hard floor cleaning and the performance here is absolutely top notch. It'll catch anything and everything in its path first time, and the crevice tool is fantastic. Don't let the D rating for carpet performance put you off – it's actually extremely successful at sucking up dust and hairs. But it's so powerful it will struggle with deep pile carpets, becoming hard to push and leaving tramlines. On all other surfaces the DC40 is a joy, gliding effortlessly along. It's also very energy efficient, with an A rating, so should shave off a few pounds from your electricity bill.
Finally, at 87 dB, this is one of the noisiest vacuum cleaners on the market – the decibel equivalent of a propeller plane flying overhead at 1000 feet.
What's hot:
First rate cleaner for hard surfaces
'A' energy efficiency rating
Great for allergy sufferers
What's not:
Too potent for deep pile carpet
Very noisy
Non-retractable cord
__Why you should buy it: This is another fantastic offering from UK company Dyson. Versatile and extremely powerful, it's perfect for hard floors and short pile carpeting, sucking up pet hair and even large debris with consummate ease.