A stylish, powerful upright that's packed with features and allergy friendly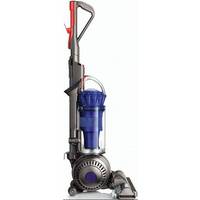 The first thing you'll probably notice about the Dyson DC41 Animal is its striking silver and blue shell, beautifully finished with vibrant flourishes of red and purple. The second thing you'll probably notice is its ball-movement design. One of Dyson's most popular upright vacuum cleaners, the DC41 offers powerful performance and innovative features, as well as a certificate for being asthma and allergy friendly.
Dyson vacuum cleaners are known for having heftier price tags than many other brands, but part of the reason is their excellent performance. Not one to mess around, the Dyson DC41 Animal boasts Dyson's Radial Root Cyclone technology - which pretty much means game over when it comes to dust, allergens, and pet hair. What does this top tech do? Well, many of today's vacuum cleaners eventually become clogged up between filter changes and start to perform poorly. This not only means it'll do a naff job on your floor, but also that there's plenty of dust and pet dander still floating about – not something you want if you have allergies or asthma. Dyson's Radical Root Cyclone technology works to capture microscopic particles with ultra strong cyclones, which work in union to create a powerful and consistent source of suction.
With its streamlined design and light weight, the DC41 Animal certainly gets around. It's really down to its clever ball movement technology, which allows for quick and effortless steering – something you don't usually get with traditional upright hoovers. Many of its important components are actually stored within the ball itself, giving the entire vacuum cleaner a sleek appearance, whilst effectively distributing its weight. Alongside manoeuvrability, the DC41 Animal comes equipped with an arsenal of handy tools, meaning no corner or cranny is safe from its suction. For high-up spots there's the 'high reach wand', which lifts straight out from the handle area in one slick movement. There's also the 'tangle-free turbine tool', which will prove a real sanity-saver for pet owners. Utilizing counter-rotating brush heads, it makes light work of removing pet hair from carpets, rugs, and upholstered furniture – without ever tangling in the process.
Whilst its additional attachments kick some serious dust, for much of the time you'll be using the regular brush bar. However, this isn't just any old brush bar - it's a Dyson one. The motorised gizmo has been designed to drive its bristles deep into carpets, releasing all that trapped dust and dirt. Its most clever feature however is its ability to self-adjust, depending on the surface it's being used on. For most normal vacuums it's up to you to adjust the brush bar when you move between hard floors and carpets – but not the DC41 Animal. It knows what it's being used on, and changes accordingly to maximize its suction.
What's hot:
Powerful
Easy to manoeuvre
Great at removing pet hairs
What's not:
On the pricey side
Head doesn't fit under low furniture
Cord doesn't automatically retract
Why you should buy it: This is, quite simply, a brilliant vacuum. Powerful and packed with features it's also ideal for those with asthma or allergies, removing dust and pet hairs like a pro. This is a perfect example of Dyson being a cut above the rest in so many ways – and therefore worth the price tag. You really do get what you pay for.