Dyson V6 Absolute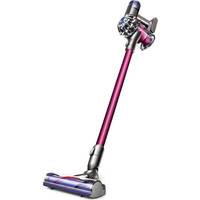 Powerful, portable and incredibly effective. Dyson technology wins here.
When it comes to vacuum cleaners, a Dyson is at the top of most people's wish lists. Known for their nifty technology and eye-catching style, they're some of the most desirable machines on the market. The Dyson V6 Absolute is a popular fixture in the brand's cordless range, and offers an ideal solution for apartments, small homes, or as a secondary vacuum cleaner in larger abodes. Finished in a striking combination of silver, fuchsia, and purple, the V6 Absolute blends power and versatility, with user-friendly convenience.
Don't let the V6 Absolute's streamlined design fool you – it's no pussycat. Powered by a digital motor that spins up to 110,000 rpm, its power is easily comparable to many of today's corded vacuum cleaners. Per charge it provides up to 20 minutes of strong, unwavering suction, or six minutes of extra oomph when in max power mode. The suction is created by Dyson's patented cyclone technology, which uses 15 strategically placed cyclones spread across two levels to increase airflow. While it's working away, a post motor filter effectively captures the finest dust, allergens, and even bacteria – sealing it away once it's in.
What good would all that power be without the right tools? Fortunately the V6 Absolute comes equipped with plenty of goodies, as well a wall-mountable docking station to charge and store the vacuum cleaner itself. In the box you'll find a combination tool, a rigid crevice tool, and a mini motorised brush tool too - perfect for removing relentless pet hair and ground-in grubbiness from upholstery or carpets. If that wasn't enough the vacuum cleaner also comes supplied with not one, but two cleaner heads. The direct-drive cleaner head uses tough nylon bristles to tackle stubborn trodden-in dirt, while its carbon fibre filaments help lift fine dust. There's also a hard floor cleaner head, which makes light work tackling both dust and debris, from wood, stone, or lino flooring.
It's not just the V6 Absolute's tools that make it a jack-of-all-trades; its slim cordless design has a lot to do with that too. Whether you want to take on the floor, the stairs, the walls or even the ceiling, there's nowhere it can't get to. Weighing just 2.7 kg, it's easy to lift, with its centre of gravity strategically positioned around the grip. This means it's easy to lift up high, even with one hand. Another smart feature of the V6 Absolute is its ability to quickly transform into a handheld vacuum cleaner – making it a brilliant tool for impromptu clean-ups, or even cleaning your car.
What's hot:
Sleek, but powerful
Attachments galore
Absolute versatility
What's not:
Can struggle with embedded dirt
Cordless vacuums have their charge limits
Small capacity
__Why you should buy it: A top-of-the-class cordless vacuum that's incredibly flexible and excels on the suction front. It looks great and it's a Dyson, which is always a plus.