Dyson V6 Fluffy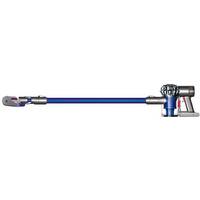 Stylish, powerful and portable. Great for allergy sufferers, too.
The Dyson V6 Fluffy – yes that is its real name – is a cordless, bagless vacuum cleaner. Lightweight, powerful and portable, Dyson once again breaks the mould with another great design.
This offering from Dyson has a capacity of 350 ml. Standing upright it's 120.7 cm tall with its stick, but the versatile V6 Fluffy can be detached and easily held in one hand due to its dainty 2.3 kg weight. You get 20 minutes of normal cleaning per charge, or six minutes of high power action. Then it will need 3.5 hours to recharge in the supplied wall-mounted docking station. There are a few handy tools such as a crevice device for hard-to-reach nooks and crannies, a dusting brush for delicate surfaces, an upholstery tool, and separate carpet and hard-floor cleaner heads.
With a HEPA filtration system allergens and dust are effectively removed from the exhaust, leaving just clean air – making this a great model for allergy sufferers. There's also an easy button release system for emptying the contents into the bin.
Dyson's 2 Tier Radial™ cyclone technology spins at an extraordinary 110,000 rpm, and the proof of the V6 Fluffy's efficacy is in the pudding – the suction power is fantastic. The cleaner head is impressively effective on hard surfaces with its ingenious anti-static bristle design. It's great at dealing with pet hairs, and its versatility makes it a hit for upholstery, curtains and cars alike.
What's hot:
Great suction power on all surfaces
Effective on pet hairs
Incredibly portable
What's not:
20 minutes of action then 3.5hrs charging
Expensive
Loose filter
Why you should buy it: UK buyers will not be disappointed if they can get their entire vacuum clean done in the allocated 20 minutes. You'll find the Dyson V6 Fluffy is incredibly portable, powerful and great across every surface type. It's so good at its job, so versatile, that you could easily use this as your only vacuum cleaner.