Powerful, portable and super versatile, this is a more affordable Dyson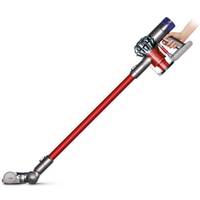 The Dyson V6 is one of the staples of Dyson's cordless line, and offers a more affordable alternative to the brand's fancier models. Boasting a sleek, silvery finish, it offers superb cleaning power paired with a lightweight versatile design.
Dyson vacuum cleaners are known for being powerful pieces of kit – and the Dyson V6 is no exception. Fitted with a Dyson digital motor V6, it spins up to speeds of 110,000 revolutions per minute, giving it comparable oomph to many of today's bog-standard corded vacuum cleaners. It doesn't end there though. The V6 is capable of sucking up even the finest dust, thanks to Dyson's 2 Tier Radical technology. It works by utilising 15 strong cyclones spread across two tiers, to maximize its airflow. The Dyson V6's compact motor shouldn't get all the credit however - the motorised cleaner head also plays a starring role. It features bundles of efficiently arranged nylon bristles to remove ground-in grubbiness from carpets, as well as clever carbon fibre filaments to lift dust from hard floors. For those extra-stubborn marks, there's also a 'max power' mode, which provides 6 handy minutes of extra strong suction.
Once you go cordless, you won't go back. Weighing a comfortable 2.04kg, the Dyson V6 is ideal for apartments, small houses, or for quick touch-ups in larger homes. It offers 20-minutes of consistent suction per charge, and efficiently conserves battery power thanks to a clever trigger grip – meaning you won't waste any between tasks. Whether it's the floor, the ceiling, or awkward nooks and crannies, there's no place the V6 can't tackle. The bulk of its weight is situated around the grip, making it easy to lift when cleaning ceilings, whilst its extra attachments provide a handy arsenal for shelves, skirting boards, and furniture. The whole unit also converts into a powerful handheld vacuum cleaner, which comes in handy for speedy spruce-ups, and, since it's cordless, cleaning your car too.
Whilst it doesn't have all the bells and whistles of Dyson's pricier models, the Dyson V6 certainly doesn't scrimp on any of the extras. The attachments you'll find in the box include a combination tool with a brush, as well as rigid crevice tool to help you get into narrow gaps. Both of them slot into the V6's wall-mountable docking station (which is also included), where you can neatly store the vacuum cleaner, and charge it for its next use. With no awkward bags or removable compartments, it's also easy to empty – you simply hold it over a bin and push the release button. All in all, the Dyson V6 makes vacuuming a cordless breeze.
What's hot:
Powerful and consistent suction
Lightweight
Can be converted to a handheld vacuum
What's not:
On the more expensive side
Doesn't stand up by itself
20 minutes battery life can be used up quickly
Why you should buy it: Hugely versatile, the Dyson V6 cleans well and has masses of nifty features to address different sorts of situations. It's not the cheapest vacuum on the market, but it's certainly worth the price, especially as you get 2-for-1 with the handheld option. Great for smaller spaces, but more suited to being a back-up in a larger house.