Dyson V6 Trigger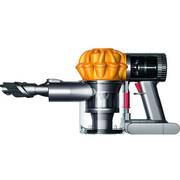 A powerful, impressive handheld that lives up to the Dyson reputation.
If you're looking for the perfect handheld vacuum cleaner for tidying up a small mess or cleaning the car, you have to consider the V6 Trigger. Small in scale but big on suction, UK buyers won't fail to be impressed.
Dyson has a great track record with innovative designs and the V6 Trigger keeps up with this honourable tradition. At 20.8 x 14.4 x 39.5 cm and weighing just 1.2 kg, this is an extremely portable device. The dust capacity is only 0.4 litres so this isn't likely to replace your main vacuum cleaner, unless you happen to live in a cupboard (actually no joke now in some parts of London). It uses a washable filter and comes with a dusting brush.
The battery lasts just 20 minutes but is easily rechargeable - although a full charge takes a rather wearisome 3.5 hours to achieve so you'll want to make every minute of the 20 count. When it does approach the end of its charge it has a 'fade free battery' function so it won't slowly lose suction power. To dispose of its contents you simply press a button for a hygienic release into the bin.
Dyson uses what it calls Root Cyclone Technology to generate a vortex that sucks up any fine particles and then traps them inside. The powerful 21.6 volt motor achieves this to great effect, being both powerful and hygienic. If you need extra power there's also a 'Boost' mode for particularly well embedded, hard to shift dirt, but this only lasts six minutes off a full charge.
What's hot:
Powerful
Light and easy to manoeuvre
Simple to operate
What's not:
Small dust storage
Slow charging
Quite pricey
Why you should buy it: The Dyson V6 Trigger (don't get confused with the bigger Dyson V6) is a near perfect handheld vacuum cleaner. The rechargeable battery may not last long, but its combination of portability and power is hard to beat, and that's all you can really ask for from a handheld.