Samsung UE48H6400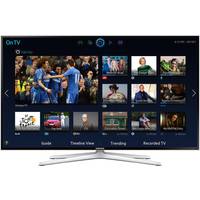 Superior image and Samsung's trademark brilliance combined to great effect.
Samsung TVs are some of the most popular around – not just on PriceRunner, but everywhere else too. Perched on a sleek cross-stand and gilded with a skinny glossy bezel, the Samsung UE48H6400 looks as good as it functions. Boasting top-notch LED technology and loaded with clever features, it's the perfect TV for those seeking an up-to-date all-rounder.
Forty-eight inches? Check. Crystal clear 1920 x 1080 resolution? Check. Full HD 3D technology? Check again. When it comes to impressive specifications, the Samsung UE48H6400 ticks all the boxes. Alongside its razor sharp picture quality, Samsung's Colour Enhancer Plus, and Clear Rate Motion technologies enhance the overall viewing experience. Colour Enhancer Plus displays colours as they were meant to be seen, whilst Clear Rate Motion technology ensures sure fast-moving pictures are delivered sharply and fluidly, thanks to an enhanced refresh rate and processor speed. So for any action film buff or sports fan, it's just the TV for the job. The UE48H6400 also comes equipped to watch all your favourite 3D blockbusters on – even in Full HD. The technology works to eliminate blurry ghost images, keeping everything clearer and more detailed. Within the box you'll two pairs of 3D glasses, meaning once you've chosen a film, you're all set to go.
In the world of Smart TVs, Samsung's creations are the equivalent of Mensa members. Running on a top-notch quad core processor, the UE48H6400 doesn't mess around, offering top speeds when it comes to web browsing, loading content, and launching apps. The 'Smart Hub' provides intuitive navigation, where you'll easily be able to access things like Netflix and ITV Player, as well as multimedia, the internet, apps and games. What's more, a customizable bar at the bottom of the screen can neatly arrange your favourite content for even speedier access. If that wasn't enough cleverness, then how about Samsung's Voice Interaction? The UE48H6400 can be controlled via one-word commands, allowing you to switch channels, change the volume, or search for content without having to manually type anything in.
For techy-types that can't resist linking their TV to other devices, the Samsung UE48H6400 provides a match made in heaven. The Smart View app allows you to stream live TV and other content to your smartphone or tablet, and vice versa. This is particularly useful if you're trying to keep an eye on the sport when you're moving from room to room, or want to view your smartphone's multimedia on the big screen. And for those that have a habit of losing the remote, Smart View also lets you control things via your smartphone instead.
What's hot:
Superior image quality
Incredibly smart
Can connect to other devices
What's not:
Audio not as impressive as image
Voice control can be inaccurate
Poor picture presets
Why you should buy it: The outstanding picture quality and visual elegance of this slimline set are its key selling points. OK, there are cheaper TVs around, but this is another awesome offering from Samsung and should really be considered if it's within your budget.