Great picture quality is let down by the sound, but it's cheaps as chips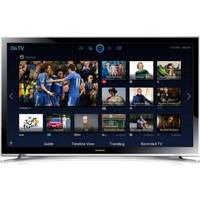 If you're looking for a small TV – perhaps for the kitchen or spare room – with a great screen and chock full of features, the UE22H5600 could have your name written on it. But be warned – this is a TV that needs a soundbar more than most.
Samsung is renowned for producing TVs with great picture quality, and the UE22H5600's Full HD (1080p) screen keeps that reputation intact. For a small telly it packs quite a punch – the colour spectrum is broad, the contrast sharp, and there's a fantastic degree of depth, especially when viewing HD content. We've seen a few budget televisions produce decent HD images but fall by the wayside when delivering SD pictures, and unfortunately the UE22H5600 struggles a bit with lower resolution content. There are plenty of worse offenders out there, though.
The sound quality of this model is very average indeed. Being so diminutive, a total output of 6 W is hardly surprising, but even with this factored in there's a lot of distortion, especially with the volume up. Fortunately there's a digital audio output and even an HDMI ARC port so we suggest it's essential to get a soundbar or other additional speakers for this television.
As a Smart TV you get lots of good Smart TV features with the UE22H55600, in addition to the Freeview HD decoder. PVR functionality allows you to pause and record live TV, and there are plenty of on-demand services and online apps via Samsung's Smart Hub. The Quad-Core processor makes changing channels and surfing menus fairly rapid, and the included remote is nicely unfussy and functions well. However, the fonts on the menu system are miniscule, making the menus quite frustrating to read.
What's hot:
Great picture
Cheap as chips
Lots of Smart TV features
What's not:
Poor sound
Just two HDMI ports
Very small fonts on EPG
Why you should buy it: This is a nice looking little television at a bargain basement price in the UK (although the savings you make will be counterbalanced by the fact you're going to need a soundbar – the audio is dire). The picture quality is great though, and there are loads of decent Smart TV features.