Samsung UE40JU6400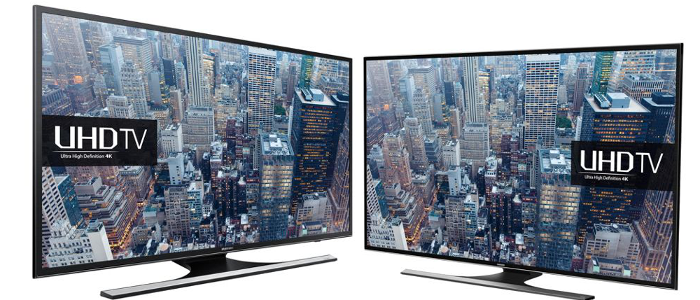 The Samsung UE40JU6400 is an impressive piece of kit that's been expertly designed to both look beautiful and work seamlessly. Its ultra-thin 40-inch LED screen is capable of displaying super-sharp 4K pictures while its Smart Hub gives users easy access to plenty of entertainment, from gaming apps to mobile media.
Below are three reasons to buy the Samsung UE40JU6400.
Award-Winning Picture Quality
Are you looking for a TV that delivers the clearest, brightest possible images? The Samsung UE40JU6400 certainly won't disappoint. This TV is Ultra High Definition giving viewers four times the picture detail of Full HD. With its Colour Brilliance, the colours on the screen are brought to life with true-to-life tones, and the picture quality is brighter, richer and more accurate so you'll feel truly impressed whether you're watching your favourite soap or tuning in to a vital football match.
Samsung is one of the forerunners in innovation when it comes to telly technology and its latest forays into colour-boosting High Dynamic Range (HDR) are well underway. This tech means studios that were once forced to dilute the colour of the shows and films to fit on our TVs, won't have to. The result: unbeatable picture precision. And the great news for anyone purchasing this set is that it's HDR-compatible.
Super-Smart Platform
Easy is the best way to describe the Samsung UE40JU6400's Smart Hub. If you can't be doing with spending ages navigating around a complicated system trying to work out how you access a movie or find your favourite show, this set will be a real pleasure. But just because it's easy to use, don't be fooled into thinking its lacking in features.
The all-singing, all-dancing Smart Hub offers access to the best UHD content from Amazon and Netflix. You can browse while still watching TV, enjoy a raft of games that'll keep everyone in the family entertained and even enjoy console-free gameplay. The new Brief on TV service can be programmed to turn the set on when your alarm goes off so you can instantly see the weather, the time and your schedule for the day. You can also auto-connect via WiFi Direct and Bluetooth Low Energy to your mobile phone to share apps, videos and content on the screen at just a touch of a button.
Multi-link Screen
Ever wanted to watch two shows simultaneously? Not only does the Samsung UE40JU6400 make that super easy, it also puts you in full control giving you the option to adjust each of the screen sizes to whatever you desire. You can also use an app or have a web browser open, and still continue to watch your programme with the set's convenient multi-linking screen mode.