LG 55UF950V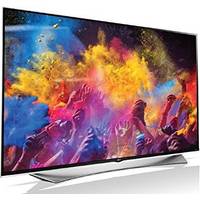 A work of art as well as a TV - with exceptional sound and images to boot.
LG 55UF950V is a 55-inch 4K UHD TV which breaks the mould in terms of stunning display, vivid colour reproduction, razor sharp imagery, and design, In fact it wouldn't look out of place in a modern art gallery.
The first thing you'll notice, before even turning it on, is how beautiful the 55UF950V looks, with its almost bezel-free metallic design and 4.8 centimetres of thickness. But the real eye opening begins once you've hit the on switch. Once up and running you'll be blown away by LG's ColourPrime, delivering 20% more shades and hues than you'll have ever seen before. You'll experience incredibly wide and deep colour, with strikingly clear and lifelike tones. Every subtle nuance is captured, and with a 4K resolution you'll find a picture quality that is unmatched by most other technologies. 4K is four times greater in resolution than Full HD - the finest details are reproduced with incredible clarity – even with your nose pressed up to the screen. The sharp detail, fine lines and stunning contrast will deliver a viewing experience bigger and more immersive than you ever thought possible.
LG's 4K Ultra HD screen reproduces content in superb quality, while its awe-inspiring IPS technology is predicted by many to be the future. In addition to the high resolution, you get a very stable image, meaning solid blacks and fluid motion. And if you want to take immersion to a whole new level, the LG 55UF950V is 4K 3D compatible. 3D content reproduced in 4K resolution is amongst the sharpest and most comfortable 3D experiences you can have - on a par with a 3D cinema viewing. The sound quality is also excellent, with the refined 4.2 channel speaker system specially designed by speaker experts Harman-Kardon. With booming bass notes and a wonderful balance you'll get perfect sound to match the perfect imagery.
Finally, the 55UF950V comes with some excellent features. The 'Magic Remote' uses movement and a tracker ball in an innovative way to interact with your TV, while you can also play 4K content via USB. The brilliant WebOS allows you to quickly flick between apps and connected devices, as well as access online streaming services such as Netflix or Amazon Instant Video. There's also PVR functionality for those of you who fancy recording content directly to a USB storage device. Overall this is a truly magnificent 4K model that really showcases some of the finest television technology available.
What's hot:
Great sound
Extraordinarily clear colour
Lovely design
What's not:
Poor native contrast experience
No HDR support
Pricey (but arguably worth it)
Why you should buy it: This isn't just a television, it's a feature piece for your living room. And its good looks are matched, if not exceeded, by its performance. Great sound, great image quality and masses of excellent features. What's not to love? Put it on your shortlist, for sure.