A Smart TV that delivers all the basics and decent picture quality at a great price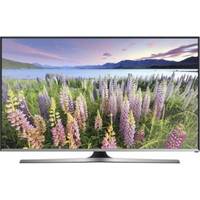 Samsung's 32-inch UE32J5500 is a cracking budget television that provides decent picture quality and a range of other handy features. This TV delivers all the required basics and makes a perfect low-cost model for the living room or an excellent telly to spoil your house guests in the spare room.
With LED backlighting and in Full HD, the UE32J5500 produces sharp images with vibrant colours and pretty good overall clarity and depth. The 32-inch screen creates picture quality that is sharp, crisp and comes across particularly well when viewing the inbuilt Freeview HD. The viewing angles are clear from everywhere in the room, providing a good view for the whole family.
Incredibly easy to set up and use, this is a great entry-level telly for those that don't want to spend a fortune yet still desire a good TV with great functionality. With three HDMI ports and two USB sockets you can plug in all the key devices you might have knocking around from your games console to your Blu-ray player.
The sound quality is clear but nothing spectacular. Slightly sharp and suffering in the bass ranges, this TV needs the addition of a home cinema system or a soundbar – something that's easily done via the HDMI ARC and digital audio outputs.
As a Smart TV you get Wi-Fi connectivity and a good range of TV streaming services from Netflix to Amazon Instant Video, YouTube and much more. You also get two USB and three HDMI ports but unfortunately there's no PVR functionality. There's also a Skype function for making calls and instant USB playback with ConnectShare Movie; simply plug in your USB drive to view your photos, movies and music.
What's hot:
Eight-core processor makes for rapid navigation
Picture quality is good
Very good value for money
What's not:
Average sound quality
Comes with a standard remote that could be much better
Can't connect a USB drive as a PVR
Why you should buy it: UK buyers will find this TV can be snapped up for next to nothing, and considering the wide range of features and sharp picture quality this makes for a very decent purchase.