A decent non-Smart TV that gets the basics spot on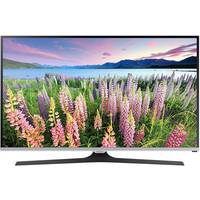 Samsung's UE32J5100 is among the cheaper 32-inch televisions on the UK market. LED backlit with inbuilt Freeview HD, it's a solid if not spectacular addition to Samsung's 5-Series. With a pretty good screen and decent internal speakers, it's certainly worth a look, but it's not exactly packed with the modern features many have come to expect.
With a Full HD 1080p screen and 200 PQI, the image quality is not bad at all for a budget television. Samsung's Wide Colour Enhancer Plus is designed to increase the sharpness and depth of the picture, showing up even further detail in an already decent screen and bringing colours to life with impressive effect. In general this provides good contrast and nice balance, and in Full HD the images are sharp and rich.
When not played at the higher volume range the UE32J5100 generates some nice tones from its two 10W speakers. The model comes with DTS Studio Sound, uses a DTS Premium Sound 5.1 codec and can be connected to your home theatre system or soundbar via a digital audio port. The audio quality of this television compares very well with its direct rivals.
One other interesting point of note is the TV's ConnectShare Movie feature. This allows the user to instantly play back movies, music and photos from a USB memory stick. As the UE32J5100 isn't a Smart TV it lacks the ability to surf the internet, so if you want to run Netflix or other online TV streaming services you will need to invest in a separate device.
What's hot:
Great value for money
Good quality sound
Pictures good in Full HD
What's not:
Freeview speakers not as clear as other Samsung models
Not a Smart TV, so lacking features
Channel surfing can be slow
Why you should buy it: As a basic, non-Smart television, there aren't many cool features. But it gets those basics right, producing great sound and pretty good imagery for a very low price all things considered.