Panasonic Viera TX-65DX902B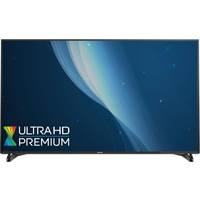 A truly outstanding model, the picture in particular is breathtaking. The Panasonic Viera TX-65DX902B is a whopping 65-inch Smart TV with a stunning 4K UHD display. Its slightly bulky, but nevertheless awesomely-designed frame, allows it to house some impressive speakers. UK buyers who've just received their annual bonus and are feeling flush should check it out.
Design-wise the TX-65DX902B looks gorgeous, but the stand covers its entire 1.46 metre width so you'll need to think carefully about where you're going to put it. As an HDR Premium model there is a fantastic, beautifully-graded contrast between the stunningly bright whites and the jet-black dark areas, adding to an extraordinary impression of depth. The THX-certified display guarantees this TV recreates the visuals of a movie exactly the way the director intended, with a vast, gorgeous colour palette and truly sublime levels of detail. With an effective upscaler this Panasonic produces some very tasty HD imagery too, but it can't quite work its magic on SD content, with a noticeable deterioration in sharpness. There is a slight blurring around fast moving objects, across all resolutions, and if you were to be hypercritical, in HDR mode, there's also a distracting bit of haloing around white objects.
Panasonic have decided being thin isn't everything, and have plumped for a slightly bulkier design to accommodate some nice meaty speakers. In addition to twin pairs of tweeters there are some potent woofers providing 40W of audio power. The upshot is a highly satisfactory soundscape with great range and awesome bass. You won't need a soundbar, but if you insist then there are the usual HDMI ARC and digital audio out ports.
This model has a satellite tuner in addition to Freeview HD - with Freeview Play - granting you hundreds of subscription-free channels and the chance to catch up on missed programmes over the previous seven days. It has the fantastic Firefox OS so interacting with online services such as Netflix, Amazon and BBC iPlayer is a joy. There's PVR functionality for recording your favourite programmes to a USB device; easy screen mirroring with a mobile or tablet; DLNA for the wireless streaming of content from other DLNA-compatible devices; four HDMI ports and three USB; an SD card slot; and finally 3D compatibility – but with no supplied glasses.
What's hot:
Fantastic picture quality
Solid audio
Firefox OS
What's not:
A bit of motion blur
Pretty expensive
Requires very wide surface
Why you should buy it: If you've got the cash this fabulous TV from Panasonic could have your name on it. The picture quality is out of this world, the audio's a bit special, and it's heaving with incredible Smart TV features.