A budget smart TV with impressive HD picture quality and inbuilt Freeview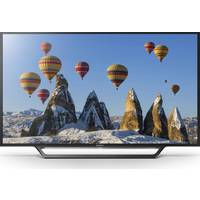 Are you on the hunt for a low-priced Smart TV with a decent HD picture and an inbuilt Freeview tuner? The Sony Bravia KDL 32WD603B might just be a contender for your longlist.
The 32-inch screen of this model has a resolution of 1366 x 768 pixels, meaning although it's HD compatible, it's not Full HD compatible. Nevertheless the picture quality is surprisingly sharp and detailed, across both HD and SD content. Colour is well represented, being vibrant and accurate, while the contrast is extremely good, creating an impression of genuine depth. Blacks in particular seem deep and even, really bringing the screen to life. It's an impressive feat for a screen with such a low resolution by today's standards. Obviously it's not on a par with Full HD or 4K, but the picture quality is a genuine strength for this model. It does, however, struggle to cope with motion. Slow pans are noticeably jerky, while fast action causes demonstrable blurring.
The audio fails to back up the decent picture with some reedy high notes, sounding a little like Rob Brydon's "small man trapped in a box" impression. Meanwhile it's accompanied by flabby, unimpressive bass. You will definitely want to make use of the digital audio output or HDMI ARC ports to connect to a soundbar or home cinema system.
The inbuilt Freeview HD tuner provides you with 70 subscription-free SD channels with an additional 15 HD channels. The electronic programme guide is difficult to navigate and somewhat sluggish. The Smart TV menu system could also have been better designed, but you do at least access to Netflix, Amazon Instant Video and BBC iPlayer. In the meantime the remote control isn't a proper smart remote and is unhelpfully arranged with the volume and channel up and down buttons near the base of the controls (i.e. at the opposite end to where your thumb and fingers are). PVR is a very useful feature which allows you to record your favourite programmes onto a USB storage device, but this model doesn't give you full PVR functionality and you won't be able to pause or rewind live TV. Finally, there are just two HDMI ports, one USB and a SCART socket, which will leave you scratching your head if you have to accommodate, for example, a soundbar, a games console, a Skybox, and a Blu-ray player.
What's hot:
Surprisingly decent picture quality
Smart TV and PVR
Low price tag
What's not:
Shrill audio
Struggles with fast motion
Lacklustre menu system
Why you should buy it: The Sony Bravia KDL-32WD603B has a surprisingly good HD screen, a Freeview HD tuner, on-demand services such as Netflix, and PVR functionality – all for not much more than a ticket to Glastonbury festival. But if you do buy this, invest in a third party speaker.