Sony Bravia KD-55XD9305B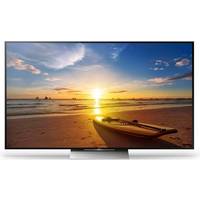 This set might be pricey, but the picture is superb and the features extensive.
The Sony Bravia KD-55XD9305B is a top-of-the-range 4K UHD, HDR-compatible Smart TV with a mammoth range of features. It's expensive but almost worth it, dragged down by a couple of small flaws.
The design is sleek and stylish, with an almost bezel-less display and minimalist brushed metal stand. It takes a while to turn on, but once fired up you'll see the benefits of Sony's Slim Backlight Drive technology; a stunning dynamic range in 4K and HDR, perfectly bright whites, and pitch-dark, even blacks. The colour spectrum is impressively broad, but perhaps a little too warm, while the contrast is razor-sharp. Meanwhile, there's a fantastic definition of detail separating the foreground from the background, creating brilliant levels of depth. There's absolutely no motion blur, but there's a clear drop off in quality once you get down to the HD and SD content, with a loss of crispness and some colour distortion. The viewing angle is a bit restrictive as well, so be prepared for some fights on the sofa for the best seat.
This is such a slimline television that you immediately question, before switching it on, how the speakers can possibly produce a good sound. And the answer is: they don't. They're not the worst, and are in fact quite acceptable for day-to-day viewing, but the soundscape is too inadequate to enrich the movie-watching experience. There's simply not enough meat on the bones here, so you really should make use of the Bravia's HDMI ARC or digital audio out sockets to install a home cinema system or soundbar.
There are so many features here it's hard to know where to start. The built-in Wi-Fi lets you connect to Youview – which is like Freeview and provides dozens of free channels. The EPG is satisfactory but the smart remote bizarrely places the channel change and volume buttons at the base of the controller (i.e. at the opposite end to your fingers and thumb). You also get streaming services such as Netflix, Amazon Instant and BBC iPlayer; mirroring between your TV and mobile devices; and four HDMI slots, three USB ports and even a SCART socket. Finally, considering this is a premium device it's curiously lacking in afterthought: there's an HD satellite tuner without a Freesat licence - so you may not be able to use it; PVR for recording programmes to a USB storage device, but you can't pause and rewind live TV; and 3D compatibility, but no glasses.
What's hot:
4K picture very sharp
Masses of features
3D compatible
What's not:
Expensive
Inadequate audio
Lacking little touches
Why you should buy it: For this price UK buyers should expect perfection, but the Sony Bravia KD-55XD9305B just falls short with inadequate audio and a screen that's a smidge shy of greatness. It's got some absolutely cracking features though, so if you happen to see it on offer you may still want to snap it up.