Everything about this five-star TV is beautiful. Except the price, but it's worth it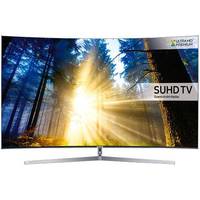 Samsung have built a truly five-star curved television in the UE65KS9000, with astounding picture quality and stunning sound to match. The metallic body is beautifully designed – sleek and sexy – and although it'll set you back a month or two's salary it's worth it for those who want the best at any cost.
Samsung's SUHD technology delivers twice the brightness of a standard UHD TV, 64 times more colour, and fabulous contrast levels. The Quantum Dot display recreates such an array of colours that images look strikingly real. Watching movies is something to behold, with picture quality so high you'll feel you're there on the film set. Samsung has also developed a very impressive anti-reflection filter to minimise the distortion you sometimes find with curved screens, while its HDR (High Dynamic Range) is amongst the very best on the market. UHD and 4K sources look simply amazing and it's not an exaggeration to say the UE65KS9000 delivers pictures that have to be seen to be believed.
The speaker arrangement in the UE65KS9000 reproduces sound to very good effect – with bass notes deep and booming, and the overall balance between high and low notes exceptional. A good soundbar or home cinema system will take this TV into the entertainment stratosphere, but if you want to rely on the inbuilt speakers you won't be disappointed as the soundscape is top notch.
All the usual Smart TV features come as standard – from the excellent, intuitive Tizen OS to the awesome PVR functionality (allowing you to record and pause live TV with a USB storage device). The remote control is fantastic, with an excellent ergonomic touch pad and rapid response times, and Samsung's Smart Hub provides you with a full gamut of online TV streaming services, from Netflix to Amazon, YouTube to BBC iPlayer.
What's hot:
Staggeringly good picture and sound
Huge number of features
Great remote control
What's not:
Pretty damn expensive
For the price you'd expect 3D compatibility
Drop off in picture quality if you're not sat facing the middle of the screen
Why you should buy it: There really aren't many better televisions available in the UK. Beautifully designed, with a simply mind-blowing screen, the UE65KS9000 is a high-end model at a high cost – but well worth it if you can afford it.