Panasonic Viera TX-50DX700B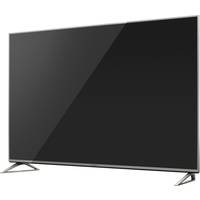 Fantastic picture quality and great sound make this a top-notch Smart TV.
The Panasonic Viera TX-50DX700B is a 50-inch 4K and HDR-ready Smart TV which won't cost a small fortune. With a very decent picture, potent speakers, a Freeview HD tuner, and streaming services, this is one to put on your shortlist.
This mid-range television from Panasonic comes with a stunning 4K and HDR-ready screen. High resolution content looks absolutely first-rate, demonstrating gorgeous effervescent colours, and great contrast. The imagery is vividly detailed, but loses a tiny bit of precision in the shadows. Motion handling is a strong point of this model, with no blurring or juddering no matter how fast the action. HD and SD imagery are upscaled to great effect and look impressively rich, but with a narrow viewing angle you'll want to sit in the middle of the sofa to see the visuals at their best. It's also advisable to invest in some good curtains because the screen is quite reflective and can be difficult to see if sunlight is streaming through the windows.
The inbuilt stereo speakers are surprisingly clean and true. You won't be disappointed with the booming bass notes and rich middle ranges. There's a satisfying quality to the audio that means a soundbar isn't 100% necessary, but you'll probably want to augment the soundscape anyway. There are the usual digital audio out and HDMI ARC ports for this reason.
The Viera TX-50DX700B comes with a built-in single Freeview HD tuner providing more than 85 subscription free channels (including 15 in HD). There's also a handy 'Switch Design' which allows you to adjust the width of the television stand to accommodate any shelf or base size. With Freeview Play you can catch up on programmes you missed over the last seven days, and with the excellent Firefox OS you can get online and watch streaming services such as Netflix, Amazon Instant Video or BBC iPlayer. You can pause live TV and record your favourite shows onto a USB storage device using the TV's PVR function. Finally, there are a whopping four HDMI sockets and three for USB – so you should have sufficient connectivity for all your other home entertainment devices.
What's hot:
Very good pictures across all formats
Great sound
On-demand and catch-up TV
What's not:
No smart remote
Sluggish menus
Decent but not 'spectacular' sound and audio
Why you should buy it: This is a very decent mid-level 4K and HDR-ready television with great pictures and balanced audio. It comes with some cracking features and although not a world-beater, for the price it's a solid recommendation.