Pretty decent images, sound and features for the price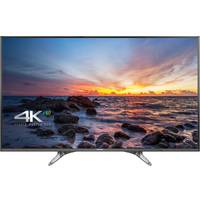 The Panasonic Viera TX-40DX600B is a mid-level 4K resolution Smart TV with a Freeview HD tuner and PVR functionality. It's a decent all-rounder and UK buyers should give this model some serious thought.
This offering from Panasonic is one of its lowest-priced 4K televisions, but it doesn't look or feel cheap, with a nice minimalist bezel and sturdy frame. The screen doesn't support the latest HDR technology, but 4K content looks fantastic, showing a high degree of detail and some stunning vibrant colours. HD and SD content all comes through extremely well, although as you slide down the quality scale there's a noticeable loss of sharpness, as you'd expect. If you were to quibble the screen isn't quite bright enough and there's a slight lack of depth and detail in the shadows, but in general the picture quality is very clear and enjoyable to watch. There's no motion blurring during action scenes and all types of content can find a good home here.
The audio quality doesn't let the side down either – it's a safe pair of hands without being exceptional. The stereo sound is clean and well balanced, coping with bass and midrange audio, but occasionally getting a little tinny. Although perfectly good for regular day to day watching you may want to invest in a home cinema system or soundbar for movie nights. The usual digital audio out and HDMI ARC ports are there for this purpose.
Panasonic provides an inbuilt Freeview HD tuner with over 85 subscription free channels (15 of which are in HD), and with Freeview Play you can catch up with programmes you missed over the previous seven days. The Firefox OS is excellent – visually appealing, customisable, and highly intuitive. The Smart TV features include lots of top apps and streaming services such as Netflix, BBC iPlayer and Amazon Instant. PVR functionality allows you to record your favourite programmes onto a USB storage device, but as this TV only has a single tuner you won't be able to pause while recording. Finally, you get three HDMI ports, two USB sockets but no SCART for older devices such as VHS video recorders.
What's hot:
Very good images across the board
Decent sound quality
Very good price for a 4K TV
What's not:
Not quite top notch imagery or sound
Basic PVR
Clunky remote and sluggish EPG
Why you should buy it: There may be better 4K televisions out there, but you'll struggle to find one at this price. With a Freeview tuner, Smart TV features, good audio and PVR – there's nothing 'next level' here, but plenty to like.