Beautiful in both looks and performance, this giant of a TV is built to impress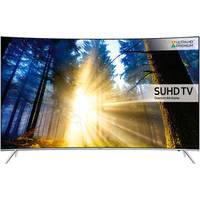 UK buyers looking for a gigantic 65-inch television that packs punches in both the audio and the picture departments should look no further. Samsung's UE65KS75000 is an astoundingly good curved-screen Smart TV which will knock the socks off your visitors.
The UE65KS7500 utilises a host of new screen technologies to produce a simply stunning picture – especially in 4K and SUHD. The SUHD Quantum Dot display delivers double the brightness of other UHD televisions, and produces an incredible spectrum of colours – currently over one billion – which allows the viewer to see more lifelike pictures than ever before. In the meantime Samsung's HDR (High Dynamic Range) and Auto Depth Enhancer create a viewing experience that almost feels like you can put your hand through the screen and touch the film set beyond. It's a shame there's not more 4K content out there because the UE65KS7500 channels it to marvellous effect. HD content still looks fantastic though, and even SD programming is upscaled to look pretty incredible. Bad luck though to anyone with a 3D Blu-ray collection – there's no 3D functionality here.
Somehow Samsung has achieved the impossible here and created an inbuilt sound system that sounds clear, crisp and quite brilliant – normally a feat beyond most modern televisions. There's a satisfying level of balance in the soundscape that makes the purchase of a soundbar unnecessary. However with HDMI ARC and digital audio output you can always take the sound to another level with some additional speakers
In terms of features you get the intuitive Tizen Smart TV operating system, Freeview HD and PVR functionality (for pausing and recording live TV with a USB storage device). Smart Hub lets you connect to the Internet for on-demand television such as Netflix or Amazon, while the set comes with two handy remote controls - a basic remote and a nice looking Smart remote (with on screen pointer). Finally, with four HDMI ports and three USB sockets the connectivity is great, and all these connections are contained in a separate standalone box – meaning the days of messy cables hanging from the back of your TV are long gone.
What's hot:
Fantastic, next-level pictures
Well-balanced sound
A truckload of Smart TV features
What's not:
No 3D function
Quite expensive
No SCART for older devices
Why you should buy it: This gorgeous, sleek metallic television set is as beautiful to look at off as it is on. The screen quality for 4K and HD content is simply astounding and it has the audio to match. It may be a little expensive but this is a model to marvel at.