This stunning 4K UHD TV ticks all the boxes – superb sound, pictures, features and price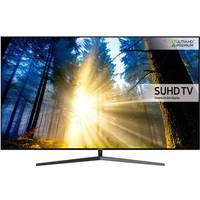 If you're in the market for a beautifully-designed 4K UHD TV capable of delivering stunning, next-level pictures and incredible sound, the UE55KS8000 could be the model for you.
Where to start? Firstly, this is a strikingly elegant television – bezel-less and with an ingenious cable management system – it looks fantastic from all angles and will have you purring before you've even turned it on. The picture quality is right up there with the best, producing 64 times more colour than other UHD TVs. The Quantum Dot display has a palette of over a billion colours, making images look so real you'll have to keep pinching yourself. The UE55KS8000 is compliant with the very latest High Dynamic Range content, bringing you incredible shadow detail and stunning whites. With additional features such as Ultra Black and Supreme UHD Dimming, the screen is amongst the very best, delivering superb clarity across all types of content – from gaming, run-of-the-mill SD, to 4K UHD..
Somehow Samsung has squeezed a 4.1 speaker system into the slim, minimalist body of the UE55KS8000 (two down-firing and two front-firing speakers with a subwoofer). Typically the sound produced by flatscreen televisions has struggled to match the latest picture technology, but here Samsung almost bucks this trend. The 60 W sound output is extremely good – handling heavy film scores with aplomb – and this negates the need to buy a home cinema system or soundbar. However, there's an HDMI ARC if port if you want to go "full immersion".
As a top modern Smart TV the Samsung UE55KS8000 has every feature under the sun – from the excellent Tizen operating system, Smart Hub (for watching YouTube, Netflix, Amazon and so on), a great little smart remote, HD online gaming, extended PVR and more. Connectivity is top notch – offering four HDMI ports, three USB sockets and Bluetooth – enough for every conceivable device you might own.
What's hot:
Stunning next-level picture quality
Incredible sound
Fantastic connectivity and features
What's not:
Top and bottom letterbox bars when watching movies could be darker
Despite incredible value for money, it'll still set you back roughly a grand and a half in the UK (as of Oct 2016)
Why you should buy it: You won't find a better all-round TV in terms of picture quality, sound and features. Not for this price at any rate. We highly recommended the Samsung UE55KS8000.