Fantastic picture quality and impressive audio make this a great Smart TV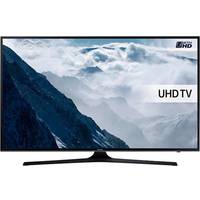 Once again Samsung impresses with the UE50KU6000, a massive, non-curved 4K TV which comes with great Smart TV features, a super screen, and solid sound. Best of all it's eminently affordable.
The picture quality of the UE50KU6000 is extremely clear and provides vivid detail. In 4K the TV is especially good, but the upscaling of SD and HD also makes for some beautiful clear images in gorgeous true-to-life colour. While slightly lacking clarity in the darker shades, it's still a decent purchase, and with a massive 50-inch screen, watching 4K movies can be an invigorating experience. As this model copes with fast motion brilliantly, with no blurring at all, it makes following major sports events particularly special.
Although the sound quality is pretty decent you'll probably still want to use this in conjunction with a home cinema setup or soundbar. Even on its own though you won't be disappointed; the audio fills the room well, reproducing booming cinematic sound effectively and with no distortion. A nice touch with the UE50KU6000 is its Bluetooth connectivity, which allows you to incorporate wireless speakers into your sound system should you wish.
Samsung have provided most of the major modern Smart TV features currently popular in the industry (apart from 3D compatibility and, surprisingly, Freesat HD). It has PVR technology to let you pause and record live TV with the addition of a USB storage device, as well as a full range of online streaming services and apps. Samsung's Tizen onscreen menu system enhances the viewing experience with its simple, intuitive navigation.
What's hot:
Particularly good pictures in 4K
HDR+ feature is excellent
Sound very decent
What's not:
No Freesat HD
Not 3D compatible
Why you should buy it: This huge Smart TV provides fantastic value. It's one of the best affordable TVs on the UK market, delivering great pictures and sound at a snip.