This is one of Samsung's real all-rounders, with a number of fantastic features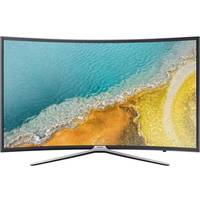 This is a 49-inch Full HD curved-screen Smart TV with decent pictures, surprisingly robust sound and a line-up of pretty cool features.
While it may not have the very latest HDR and Quantum Dot technology, the UE49K6300's Full HD (1080p) display is not to be sniffed at. Screen features such as Auto Depth Enhancer and Micro Dimming Pro ensure pictures are so sharp and vivid as to appear completely life-like. Auto Depth Enhancer applies contrast tweaks to the backgrounds, mid-grounds and foregrounds to create an incredible, immersive picture. Meanwhile colours are vibrant, while the brightness is wonderfully intense, making details leap out of the screen. Samsung's upscaler also does a sterling job of boosting standard definition pictures for day-to-day viewing.
The sound quality of the UE49K6300 is pretty solid without ever being in danger of winning any awards. There's a generally pleasing quality to day to day viewing, with a nice degree of clarity separating voices from background noise, but you'll probably still want to invest in a soundbar or home theatre system and use the set's inbuilt HDMI ARC or digital audio output.
In terms of cool Smart TV features you get an inbuilt Freeview HD tuner, while Tizen and Smart Hub allow you to navigate menu systems and get online quickly and simply for viewing Netflix and Amazon amongst others. There's cloud-based, console-free gaming if you have a PS3 or PS4 controller lying around, and Samsung have made a big deal of their Smart Things Eco System; this allows you to turn your TV into a master control for setting light and heat levels around the home, as well as keeping a watchful eye over your sleeping baby. The UE49K6300 can even be programmed to wake you up with pertinent information such as the time and weather.
What's hot:
Very decent Full HD picture
Plenty of great features
Bargain price
What's not:
Probably need to invest in a soundbar
An HDMI and USB socket short
No Freesat HD
Why you should buy it: For UK buyers this is a decent all-rounder, with heaps of features but just falls short of being a top television. For the price it is certainly worth serious consideration.