This Samsung's sharp picture and sound make it a model well worth considering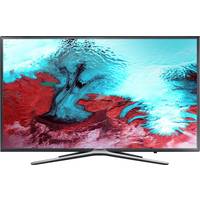 If you're in the market for a small TV with a good picture and don't want to spend too much, the Samsung UE32K5500 could be the model for you. At 32-inches you're unlikely to see your visitors' jaws drop, but the UE32K5500 packs a sufficient punch in terms of image quality to make a great budget TV or second set for a spare room or study.
For the low price you won't be disappointed with the imagery on this television. It may not be a 4K TV but HD signals come through with some clarity, with nice contrast, and a decent colour palette. Samsung's Wide Colour Enhancer works in overdrive to improve and upscale images in standard and high definition. Motion isn't rendered particularly well, with a degree of jerkiness accompanying slow pans that can irritate the viewer at times. However, retailing between £200 and £300 in the UK, you can't be too picky.
The picture – motion issues aside – is crisp and matched by a surprisingly clear soundscape. There's great balance with top and bass notes coming through equally well, and it can cope with thundering movie soundtracks with surprising ease. But if you want to rig it up to a soundbar or home theatre system there are the usual digital audio outputs as well as an HDMI socket.
To add further value for money, the UE32K5500 has a Freeview HD decoder and PVR for recording and pausing live TV (with a separate USB storage device). With an incredibly easy setup and Samsung's intuitive Tizen navigational system, this is a real "plug and play" model which even the most diehard technophobe will find a doddle to set up and operate. Finally, with Samsung's Connect & Share feature you can project your photos and home videos from your smartphone with the click of a button.
What's hot:
Great value for money
Surprisingly good sound
Decent picture quality
What's not:
No Smart remote
Not 4K compatible
Occasional screen issue with movement
Why you should buy it: The UE32K5500 won't win many awards but for pure value for money it's worth your consideration. The picture is sharp and its sound puts a few more expensive models to shame.