Great design and picture with so-so sound quality at a very decent price.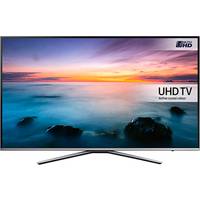 This elegantly-designed, super-slim 4K TV is a great piece of kit, and for under a grand you'll struggle to find better. With a gargantuan 55-inch screen, superb pictures and cinematic sound, the UE55KU6400 is worth your serious consideration.
Samsung utilises its Active Crystal Colour technology to create a visually-immersive experience that's second-to-none in this price bracket. The curved screen is first-rate, apparently delivering not only more than 17 million colours, but a 13% wider colour space than standard UHD. The result is sharper imagery, richer colours and incredible upscaling so everything looks fantastic - even lower resolution content looks sharp. The contrast is top notch, with anti-reflective coating reducing glare, a touch that leads to genuinely deep blacks and standout whites. If you were to nitpick you might say that rapid motion can come across a tiny bit blurry, but this isn't an insurmountable distraction.
The sound quality is decent while not being likely to win any awards. The balance isn't bad, but it can't quite cope with the booming soundscape of a Hollywood movie. It will certainly benefit from the addition of a soundbar or home cinema system. The TV SoundConnect feature allows you to wirelessly connect your TV to a Samsung Soundbar, and is worth looking at as an add-on.
The UE55KU6400 comes with a number of excellent features including inbuilt Freeview HD and Freesat HD. As well as the usual online streaming services such as Netflix and Amazon Instant Video, there's the excellent SmartThings home control function which allows you to monitor your home from afar, set lighting and heat levels, and check on your sleeping child. In the meantime you also have Playstation Now, a nifty feature for the gamers amongst you that allows you to play PS3 games without needing to buy a console. Finally, with Quad-Core processing, multitasking and navigating your Tizen OS is smoother and faster than ever.
What's hot:
Very good picture
Good value for money
Lots of features
What's not:
Sound isn't at top level
No SCART for backwards compatibility
Why you should buy it: For under a grand in the UK you get a Smart TV with an excellent picture and range of features, if not a commensurate sound experience.