A strong picture and solid sound make this a great all-rounder at a decent price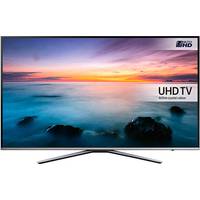 Samsung once again delivers a top-notch, affordable 4K HDR television with a superb wide viewing angle. Add to that a crisp UHD picture, excellent upscaler and serviceable sound, and this is a great value Smart TV that won't disappoint.
Non-curved and 40-inch in size, the UE40KU6400's screen produces a clear picture with rich colours and deep blacks. In 4K it's particularly impressive, but even standard television programmes come across exceptionally well. Samsung's Active Crystal Colour technology generates extremely detailed images and, it's claimed, a "20% wider array of colours" than your run-of-the-mill UHD screen. If you wanted to be hypercritical there is a slight loss of detail with fast-moving images, but this doesn't prove to be too great a distraction.
The sound quality of the UE40KU6400 is solid, but unspectacular. It comes across very well with day-to-day TV use, but we wouldn't recommend relying solely on the inbuilt speakers if you're having a big movie night with friends or family. Low notes can cause a bit of rattling, so film fanatics might be best off investing in a good home cinema system or soundbar.
This television is replete with all the latest Smart TV features. It comes with Freeview HD and Freesat HD, as well as PVR functionality with a separate USB hard drive. For your fill of your favourite Netflix and YouTube shows, you can seamlessly connect to the internet via Samsung's Smart Hub, while console-free cloud based gaming is also available. And if you're after something fancy, Samsung's SmartThings ecosystem should fit the bill. Monitoring CCTV, controlling the heating and lighting, it's all possible using your television as a control hub in the home.
What's hot:
Freesat HD and Freeview HD look fantastic
Great value
Loaded with the latest features
What's not:
Speakers struggle with bass
Not quite top quality
Why you should buy it: The picture quality is strong and the sound solid. You'll struggle to find such a good all-round package for a lower cost in the UK.