LG 55B6V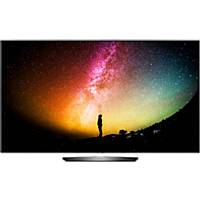 With stunning pictures and awesome WebOS, this is a superb Smart TV.
The LG 55B6V is one of LG's cheaper mouth-watering OLED screen televisions. With stunning visuals and a host of great Smart TV features, this is one for UK buyers to watch.
LG have produced an incredibly slim and elegant design in the 55B6V, with an almost bezel-free display. The OLED HDR screen with a resolution of 3840 x 2160 pixels is quite simply out of this world and 4K and HDR pictures look amazing. LG's 'Perfect Black' technology signals its organic pixels to independently switch off when required, delivering blacks and contrasts like you've never seen before. Meanwhile the colour range expands to over a billion different shades and hues, creating a kind of hyper-realism that's so impressive you can't tear your gaze away. Take a step closer and you'll notice layers of detail you wouldn't have thought possible. And even lower-quality resolutions look fantastic with LG's incredible 4K upscaler. The only conceivable criticism would be that there's an ever-so-slight trace of motion blurring, which can be fortunately countered by tweaking the settings. But this is extreme nitpicking.
The 40 watt Harman-Kardon speakers provide decent balanced audio, with some thumping bass and silky trebles. They can also tolerate high volume without cracking or distorting, but with a screen this good they still pale in comparison, and their lack of 'wow factor' is painfully apparent. For this reason we'd strongly recommend investing in a home cinema kit or soundbar, utilising the HDMI or digital out ports.
There's both Freeview and Freesat available to open up a vast number of subscription-free channels. LG also has Freeview Play to allow you to catch up with the last seven days of programming, while its excellent WebOS provides one-touch access to a host of great TV streaming services such as Netflix, Amazon Instant Video and BBC iPlayer. WebOS allows you to customise your start page and never takes you away from what you're viewing. The Magic remote uses motion in a great new way to interact with your TV. Meanwhile the 55B6V connects seamlessly with your mobile devices for screen mirroring. There are four HDMI ports, three for USB, and Bluetooth – so plenty of connections to rig up all your other bit of home entertainment kit. Finally, there's PVR for recording your favourite programmes to a USB storage device.
What's hot:
Stunning pictures
Brilliant 4K upscaler
WebOS a joy to use
What's not:
Expensive
Sound should be better
No 3D compatibility
Why you should buy it: The picture quality of this OLED television has to be seen to be believed. The sound by comparison is disappointing, but hardly a disaster. If you want to be blown away by stunning visuals this TV should be on your shortlist.