One of the lightest heavyweight tablets around, it's slim, solid and speedy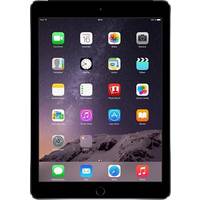 When most people think of tablets, they think of the most coveted one of all – the iPad. The second edition of the brand's lighter, full-sized tablets, the Apple iPad Air 2 comes in gold, silver or space grey. Loaded with powerful apps and compatible with many more from the App Store, it's the perfect tool for browsing, work, and entertainment. Like every Apple product, cutting-edge technology and dashing good looks are both to be expected.
Apple is known for creating top-notch screens – and this one is no exception. Measuring 9.7" (diagonal) with a resolution of 2048 x 1536, it's super sharp and beautifully vivid. Whilst previous iPads utilized three separate screen components, the Apple iPad Air 2 has streamlined them into just one layer, boosting its overall quality. There's also an anti-reflective coating that reduces glare by over 50%, meaning you can get the most out of your device whatever the conditions. Using it with a reading app whilst sunbathing? Not a problem. Not only does the screen look superb, but it functions perfectly too. The extra sensitive touchscreen offers more accuracy than previous generations, providing lightning-fast responses – perfect if you're an avid gamer, or just using it for regular tasks.
Not just a pretty screen, the iPad Air 2 is a powerful piece of kit. So much so, it rivals many of today's regular computers. Alongside 10 hours of battery life, it boasts an A8X second-generation chip with 64-bit desktop-class architecture – which in non-techy terms means it's pretty great. Whether you're enjoying films, music, or apps, everything launches quickly and operates smoothly – even graphics-heavy games. Since it's an Apple product, you can also expect plenty of nifty built-in features. Like older generations there's a new and improved 8MP iSight camera and a forward-facing camera, allowing you to shoot and film subjects, or take selfies and video calls. For extra security, there's also Touch ID technology too, which uses your fingerprint to swiftly unlock the device when you need it. Very James Bond.
The Apple iPad Air 2 is the reigning supermodel of tablets. Encased in durable aluminium, it's stunningly beautiful and enviably thin – a mere 6.1 millimetres. It also weighs less than a kilo, making it light enough to hold one-handed, or to pack away in your bag and take anywhere. You'd be forgiven for thinking that something so sleek can't possibly be strong – but the moment it's in your hands, you'll be surprised by just how sturdy it feels.
What's hot:
Thin, beautiful and super light
Exceptionally fast
Impressively robust
What's not:
Sound quality isn't great
Not really a laptop replacement (while the iPad Pro arguably is)
Pretty expensive for a tablet
Why you should buy it: Thin, light and tough, the iPad Air 2 is pricey, but worth every penny. Powerful and lightning fast, it's a thing of beauty and a joy to use.