A truly beautiful tablet that's feature-filled and packs a powerful punch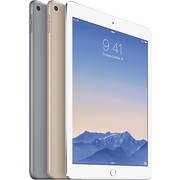 The iPad Air 2 is Apple's lightest and most user-friendly tablet yet. Not only does it look stunning, but with a powerful processor, razor-sharp 9.7-inch retina display, and incredible array of features, this really is one to put on the Christmas wishlist.
At just 6.1 mm in depth and weighing a mere 437 grams, this is one of the more portable tablets on the UK market, but don't let its light weight fool you – with an A8X second-generation chip, 64-bit desktop architecture, and 2 GB of RAM, this is a powerful machine. The 2048×1536 pixel 9.7-inch Retina display produces vibrant colours, solid blacks and brilliant whites, while an antireflective coating is responsible for one of the least reflective displays of any tablet. The inbuilt rear-facing camera with 8-megapixels and improved sensors has some cool features (including time-lapse videos, slo-mo, and panoramic shots) and takes stunning true-to-life pictures even in poor light. The 1.2-megapixel front-facing camera is also pretty decent, making selfies and FaceTime chats better looking and sharper than ever.
A major difference with its predecessor is the introduction of Touch ID technology – a fingerprint scanner set in the home button. It's used to unlock your device and prove identity when making purchases at the iStore. The button is responsive and gives the user peace of mind. Another difference – this time unwelcome – is that to accommodate an even lighter design there's been a small drop off in battery life. Although 10-hours of browsing websites, watching videos and playing games sounds substantial, it's dropped down from 13 hours, which is a bit of a shame, but a small price to pay to accommodate other improvements.
The iPad Air 2 has some great pre-loaded apps to get you instantly web surfing, editing photos or videos, sending emails, and creating documents and spreadsheets – while many thousands more apps and games are easily downloaded. Finally, as there's no microSD card slot, you can't upgrade the paltry 16 GB internal storage that this model comes with. You'll need to set up an iCloud account pretty quickly for day-to-day storage of videos, pictures and music.
What's hot:
Elegant design
Incredibly portable
Lots of features
What's not:
Expensive
Battery life worse than predecessor
Measly 16 GB not expandable
Why you should buy it: All the improvements – bar the decrease in battery life – make this a far better model that the original iPad. This is without doubt one of the most beautifully-designed tablets and fortunately it's as much 'beast' as it is 'beauty' - with a meaty A8X processor there's nothing it can't handle.