Apple iPad Mini 2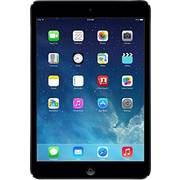 Small, but powerful, the iPad Mini is perfect for using on the go - and robust, too.
The Apple iPad Mini 2 (16GB) is the second generation of the popular iPad Mini. After the launch of the original, the Mini 'series' has gone from strength to strength, with customers queuing around the block for this diminutive but powerful little model. The Apple iPad Mini 2 is a marked improvement over its predecessor, with the stunning Retina display in particular making a welcome appearance.
Incorporating Apple's traditional design style, the iPad Mini 2 is aesthetically pleasing as usual. It's also intuitive to use and not the cheapest on the UK market – two more signature traits from Apple. The Apple iPad Mini 2 is thin and light, constructed from aluminium, and looks and feels like an absolutely top quality product. Although on paper you might think it's too expensive, you're highly likely to change your mind if you ever have the fortune of holding one of these in your hand. There's no unsightly plastic and it feels sufficiently robust that you won't ever have to worry about bumps or scratches.
The Apple iPad Mini 2 is designed to be light and small enough to be used in one hand. This means that you can actually scroll and press with the thumb of the same hand that's holding your iPad. This is particularly useful, for example, if you're on public transport and want to read an eBook while holding a grabrail. But the most spectacular aspect of the Apple iPad Mini 2 is its beautiful 7.9" Retina display – the impressive resolution and stunning screen tech deliver incredibly detailed imagery, crisp text and razor sharp photos and videos. With more than 3.1 million pixels, the iPad Mini 2 delivers a greater picture than an HDTV.
Inside Apple iPad Mini 2 is an A7 processor that is both powerful and energy efficient. With 64-bit architecture, tasks are performed as smoothly as you could hope, allowing you to run some real processor hungry apps while still maintaining a battery life of more than 10 hours.
What's hot:
Superb hi-res display
Stunning design and build
Improved Wi-Fi and LTE connectivity
What's not:
Not as easy to hold with one hand as other, smaller tablets
Colour is better on some competitors
Camera nothing to write home about
Why you should buy it: The iPad Mini 2 is so small and portable, and the built-in cameras so decent, that you'll inevitably find yourself using this excellent portable tablet as a camera in everyday life. It's a truly great tablet and won't disappoint anyone fortunate enough to own one.