Samsung Galaxy Tab S2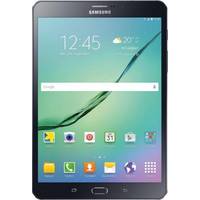 Portable and powerful, this is a top-notch tablet - a real rival for Apple.
This is the 8-inch version of the Samsung Galaxy Tab S2 (the other being 9.7-inches) and it's one of the best compact tablets on the UK market. Fast, lightweight, and feature-packed – it gives Apple a serious run for its money.
With measurements of 135 x 199 x 5.6 mm and an 8-inch display, this is one of the smallest, most portable tablets ever, and provides direct competition for Apple's iPad Mini 4. It has a metal border, a matte-black rubberised back and a Gorilla Glass front. While not being quite as aesthetically-pleasing as Apple's brushed-aluminium unibody, it does have a much more high-end feel to it than previous Samsung models. There's a fingerprint sensor to unlock the device and a SIM card slot for connecting to the internet via 4G. The Super AMOLED screen with 2048 x 1536 pixel display provides superb brightness and depth of colour, making this a fantastic tablet for watching movies. The speakers give a good account of themselves too, delivering a robust stereo sound. The 8 MP rear-facing main camera takes sharp pictures and can also record in incredible 4K video resolution, while the front-facing 2.1 MP camera takes perfectly adequate selfies.
The octa-core processor and 3 GB of RAM ensure a silky smooth experience while streaming videos, surfing the internet, or running multiple apps. There's nothing you can't throw at it, making this one of the most powerful small tablets you can find. Being so compact means those with bigger hands could initially struggle with the diminutive onscreen keyboard, but the responsive touchscreen and clever layout compensate by being a breeze to use. If you're planning on sharing the Samsung with family members, you can set up separate user accounts to retain your own settings and themes.
There's a 32 GB storage capacity, thankfully upgradable to 128 GB via a microSD card slot. In the meantime the battery life is one of the very best, granting you an extraordinary 71 hours of constant audio use, 22 hours of talk time, 14 hours of video playback and 8 hour uninterrupted web browsing.
What's hot:
Extremely portable
Very powerful
Unbelievable battery life
What's not:
Plastic casing rather than aluminium
Unnecessary Adaptive Display technology
Android 5.0.2 a bit out of date
Why you should buy it: This is a winning combination of portability and power. It beats the iPad Mini 4 in terms of size, weight and power, but perhaps not in the aesthetics department. In every other respect this is an absolutely first-rate tablet.