An inexpensive, decent performer, but not the best Samsung has to offer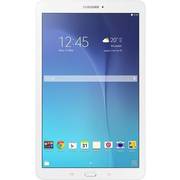 If you're thinking of buying an inexpensive tablet then you may want to consider the Samsung Galaxy Tab E. It's a pretty cheap, but decent-ish mid-range tablet from Samsung with a workable camera and some other convenient features.
Tablets are sweeping the nation lately with about half the UK owning one. If you want in, but don't have a fortune to spend, the Galaxy Tab E is worth a punt. Available in either white or black, its measurements are 241.9 x 149.5 x 8.5 mm. It's a bit heavier than some, weighing in at 490 grams despite only having a 9.6-inch screen - meaning you might not be able to comfortably vacuum clean with one hand and watch YouTube cat videos with the other. It has a non-slip, textured plastic back to provide a secure grip. It doesn't feel particularly high-end, but you never feel it's in danger of suddenly falling apart. Once you've turned it on, those familiar with Android will recognise the old-school KitKat 4.4 operating system. It does look dated these days, but still serves up a nice menu and grants you most of the same options you get with more modern tablets.
The 1280 x 800 pixel screen is starting to seem a bit past it too, with icons looking overly pixelated. Colours are a tiny bit drained, but the brightness levels are great, allowing you to sit outdoors and still happily see what's going on. It's not the most responsive touchscreen, however, requiring some quite firm finger prods before it will bend to your will. The 1.3 GHz processor and 1.5 GB of RAM just about keeps the ship afloat though. It's not the most powerful device, but for navigating your menus and playing games it still provides a smooth experience. Open too many tabs though and you're likely to experience the dreaded 'hang' or video stutter.
The rear-facing 5 MP camera takes some serviceable photos and videos, although doesn't perform so well in high or low light environments. The 2 MP front-facing camera is nothing to write home about, but is fine for Skype calls or quick selfies for Facebook. The battery life is fairly decent, providing about 8 hours of Internet usage off a single charge. Finally, 8 GB is nowhere near sufficient for the modern user – especially when you realise that 3 GB of this is already taken up with system files and preinstalled apps. Consider, for example, Louis CK's new ten-episode series 'Horace and Pete'. It's 11 GB in size to download – where's it going to fit? Fortunately, the microSD card can be upgraded to up 128 GB – something we'd recommend you do immediately.
What's hot:
Decent processor performance
Nice rear-facing camera
Inexpensive
What's not:
Miserable 8 GB internal memory
Outmoded OS
A bit dated all round
Why you should buy it: The Samsung Galaxy brand is let down a little by the Tab E, but at least it's cheap and the performance isn't the worst. It's not a bad entry-level tablet – perhaps suitable for a young child? Otherwise there are plenty of better options out there.