Bose SoundLink Mini II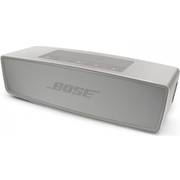 Enjoy fantastic, rich sound from this stylish and super-portable Bose speaker.
Are you looking for a small, portable speaker of fantastic quality that guarantees a big, rich sound even when you're out and about? Then look no further. UK buyers will be stunned by this little gem from Bose.
The Bose SoundLink Mini II is an ultra-portable, compact mini Bluetooth speaker with a unique rich sound. Weighing only 670 grams, it's extremely easy to take around with you. It comes with a rechargeable lithium-ion battery that ensures 10 hours of playing time, and when it needs recharging it can either be plonked onto a charging cradle or you can plug it directly into the wall. The cradle also doubles up as a base for the speaker, so you can charge and play at the same time.
The wireless Bose SoundLink Mini II has a decent reach of 9 meters from a Bluetooth device, although if you wish to use a 3.5 mm audio jack to connect to a television or laptop the option is there. Connecting is as simple as it gets, you just have to ensure your other device has Bluetooth enabled, then at a touch of a button on the speaker the two will pair up, with a voice recording explaining what you have to do and what you're connected to.
The aluminium design is elegant and stylish and simplicity itself. However, should you wish to put your own stamp on it there are a number of soft covers which you can buy as optional extras. They come in a variety of different colours and patterns, allowing you to customise your speaker as well as protect it from bumps and scratches. But this little speaker isn't all style over substance - once you switch it on you'll be amazed at how much volume and bass it can produce. The audio quality is simply outstanding, delivering a fantastic audio range that's both clear, balanced, and exceptionally rich in quality. You'll never cease to be amazed that such a big sound can come from such a small piece of kit.
What's hot:
Big sound - fills the room
Solid build
Great charging dock
What's not:
Bass could be stronger
Doesn't charge through MicroUSB
No speaker phone feature
Why you should buy it: The Soundlink Mini isn't exactly cheap and cheerful, but you get what you pay for. The rich sound is worth every penny, but it's also super portable, looks fantastic and has a pretty decent battery life. If you're looking to bang out some tunes either at home or on the move, then definitely look in this direction.