A solid, powerful performer which embodies all the usual Apple design brilliance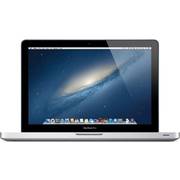 The enduring appeal of Apple's entry-level 13-inch MacBook Pro keeps on going. And it's not hard to see why. UK buyers who fancy a MacBook Pro, but are worried about the price tag, should give serious consideration to this older model, which still has the power to mix it with the Johnny-come-latelies.
The design of all the recent MacBook Pros is remarkably similar, with Apple subscribing to the "if it ain't broke" maxim. It's almost identical to the newer 'Retina' model, but a bit thicker. The chassis is nevertheless a gorgeous slimline unibody construction made from solid aluminium and it feels – and is – extremely robust. There's a DVD-RW drive – something that's now disappeared from the Retina version. The 1280 x 800 pixel HD screen is sharp and content looks fantastic, but it offers a fairly restrictive viewing angle and the gloss finish isn't great for use outdoors when sunny. The backlit keyboard is simple and responsive and quite simply still one of the best you can get for a 13-inch laptop, while the multi-gesture trackpad allows for multiple ways to interact with your content.
MacBook Pros are often a step ahead when it comes to performance, which means even after a few years have passed they're still up there stats-wise. The MacBook Pro has a rapid 2.5 GHz Intel Core i5 processor, a slightly-deficient 4GB of RAM, but a very decent seven hour battery life. In terms of connectivity you'll find the following: a FireWire 800 port; two USB 3.0 ports; one Thunderbolt port; a 3.5 mm audio jack; an SDXC card slot; and an Ethernet port. Irritatingly it's missing HDMI compatibility, so you'll need to invest in an adapter if you want to plug this into your television at home.
The MacBook Pro is still pretty powerful despite the 4 GB of memory – many competitors are up to 8 GB or even 12 GB. But you can still run multiple programs simultaneously without an obvious strain on the device. The bundled software includes Apple's version of Office – Mail, Pages, Numbers and Keynote - in addition to Safari, FaceTime, iMovie, GarageBand and many others.
What's hot:
Lovely design with great attention to detail
Solid performance and power
Great battery life
What's not:
Still quite pricey for an older model
No HDMI
The newer MacBook Pro is way ahead
Why you should buy it: As a slightly older MacBook Pro model the performance is naturally falling behind a bit, but still solid. This makes a great purchase if you want a MacBook Pro but the bank balance doesn't quite stretch to the new Retina models.