Apple MacBook Air 11.6"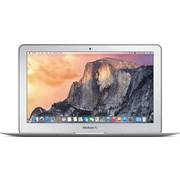 Portable , powerful and brilliantly designed, this is another real gem from Apple.
With the Apple MacBook Air 1.6 GHz 4GB 128GB SSD 11.6'' you get an ultra-portable powerhouse bursting with useful features and exciting programs.
When you turn on your newly purchased MacBook Air you'll discover immediately that everything you need from a laptop is at hand. It's a perfect device for both work and play, combining great power with great fun. No job is too large or complicated with the lightning fast operating system Mac OS X and the Intel Core 1.6 GHz processor. You can even apply Turbo Boost to temporarily ramp up your processor speed to 2.7 GHz for manage extra demanding tasks. Meanwhile the integrated Intel HD Graphics 6000 display adaptor delivers stunning imagery and graphics. So whether you're hard at work or relaxing on the sofa playing the latest computer games – the MacBook Air can handle it all. With a great display and a superlative processor performance it can cope with anything you have to throw at it. Whatever you do, you'll do it much faster and more efficiently compared to previous MacBook versions, providing a truly remarkable user experience.
The computer comes with a screen of 11.6" (and a resolution of 1366 x 768 megapixels) making it extremely portable. In fact it's amongst the thinnest and lightest computers on the UK market. With a body constructed of ultra-light aluminium, and a thickness of just 1.7 cm, the MacBook Air weighs in at just 1.08 kg, making it easy to handle when you're out and about. Don't be deceived by the seemingly delicate exterior – it's actually extremely robust and can withstand minor knocks surprisingly well. And with a battery life of up to 9-10 hours on a single charge, you should have an operational computer from the time you leave home in the morning, to the time you get back home after a busy day at school or the office.
Finally, the SSD drive provides 128 GB of storage. Although that may seem small in comparison with typical HD drives, it's significantly faster and more stable. Overall, this is an absolutely superb award-winning laptop from Apple and it couldn't come more highly recommended.
What's hot:
Small and light
Good performance
Pretty decent battery life
What's not:
Low screen resolution
No SD card slot
No HDMI or Ethernet ports
Why you should buy it: It may be small, but it is fierce. This ultraportable MacBook Air isn't lacking in power or, indeed stamina, with an impressively long battery life. It looks great (obviously, it's an Apple) and is decently priced for the brand, too. If you like your laptops pretty and powerful, give this one a whirl.